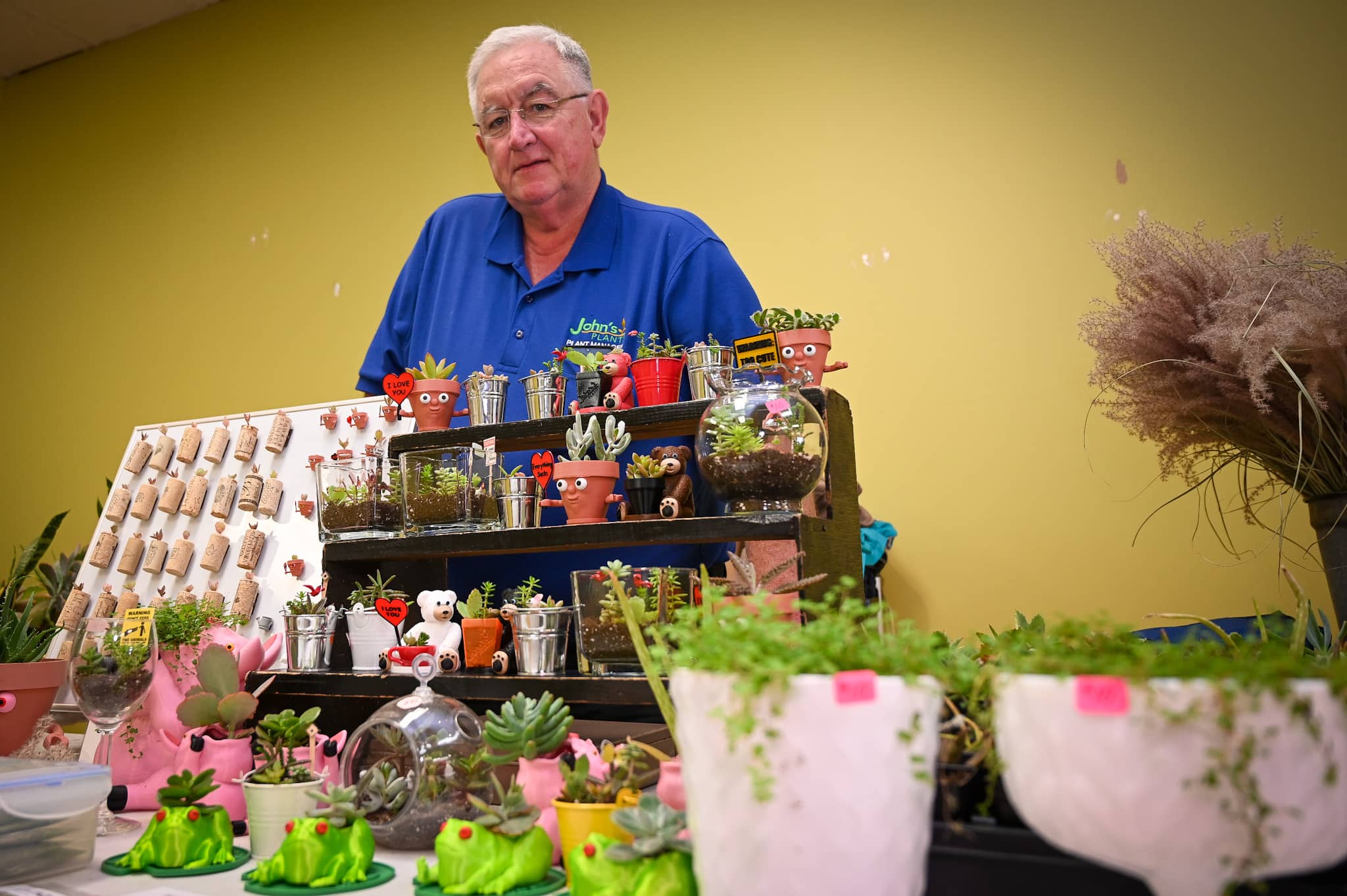 FREEPORT — John Miller didn't set out to be Freeport's catnip dealer when he started his traveling plant shop, but customers kept bringing their cats back for more.
"I've made so many cats in this area high it's unbelievable," Miller, 70, joked.
Miller's business, John's Plants, sells a variety of succulents and planters from his home and at area farmers markets. They're often planted in unique and whimsical pots his son Troy makes with a 3D printer.
But the Freeport retiree also grows nepeta cataria, the herb more commonly known as catnip, and sells handmade cat toys.
"I jokingly tell people that I'm the largest grower of catnip in northwest Illinois," Miller said. "I don't know if that's true or not, but boy it sure makes me feel important."
Rockfordians can find Miller at the weekly indoor Edgebrook farmers market, which opened last Wednesday and will continue into December.
His business began 15 years ago when he would tag along to craft shows with his wife, Deborah. She sold homemade cards, and he decided to try selling dried flowers at first.
His business has evolved since then, and now he makes frequent appearances at farmers markets and other pop-up events. Next weekend, he'll host a special fall succulent and house plant sale from his home.
Miller learned his craft while growing up on a farm and later taking classes after he retired from Honeywell as an engineer 10 years ago.
"I grew up on a farm and we had a large family, and we always had large gardens," Miller said. "When I retired I took master gardener classes and participated in that."
When he isn't at craft shows or farmers markets, Miller will sell his plants out of his house accompanied by his two cats, Bob and Precious, during designated seasonal hours.
"In the spring and first half of the summer I'll have actual business hours at my house," Miller said. "In the fall it's more house plants and succulents, and craft-type related terrariums and planters."
The planters his son makes are sometimes vintage mugs or glassware, wine glasses or animal-shaped pots with cute or silly slogans attached.
Miller's favorite part of his hobby turned small business is the opportunity to educate people on gardening. He also likes the social interaction and reactions from happy customers.
"When they tell me comments like, 'Oh John your plants always do so well for me,' boy I eat that up," Miller said. "I really like it when kids show an interest."
When asked what his best gardening tip was, Miller said this:
"Don't over water, that's one of the biggest problems," Miller said. "If something fails, try again. Try something else, some plants are hard to grow."
Where to find John's Plants
John's Plants will be at the indoor Edgebrook farmers market weekly from 9 a.m. – 1 p.m. every Wednesday, 1639 N. Alpine Road.
Miller will also be hosting a plant sale from 9 a.m.-3 p.m. on Saturday, Nov. 19 at his house, 645 W. Cleveland St., Freeport.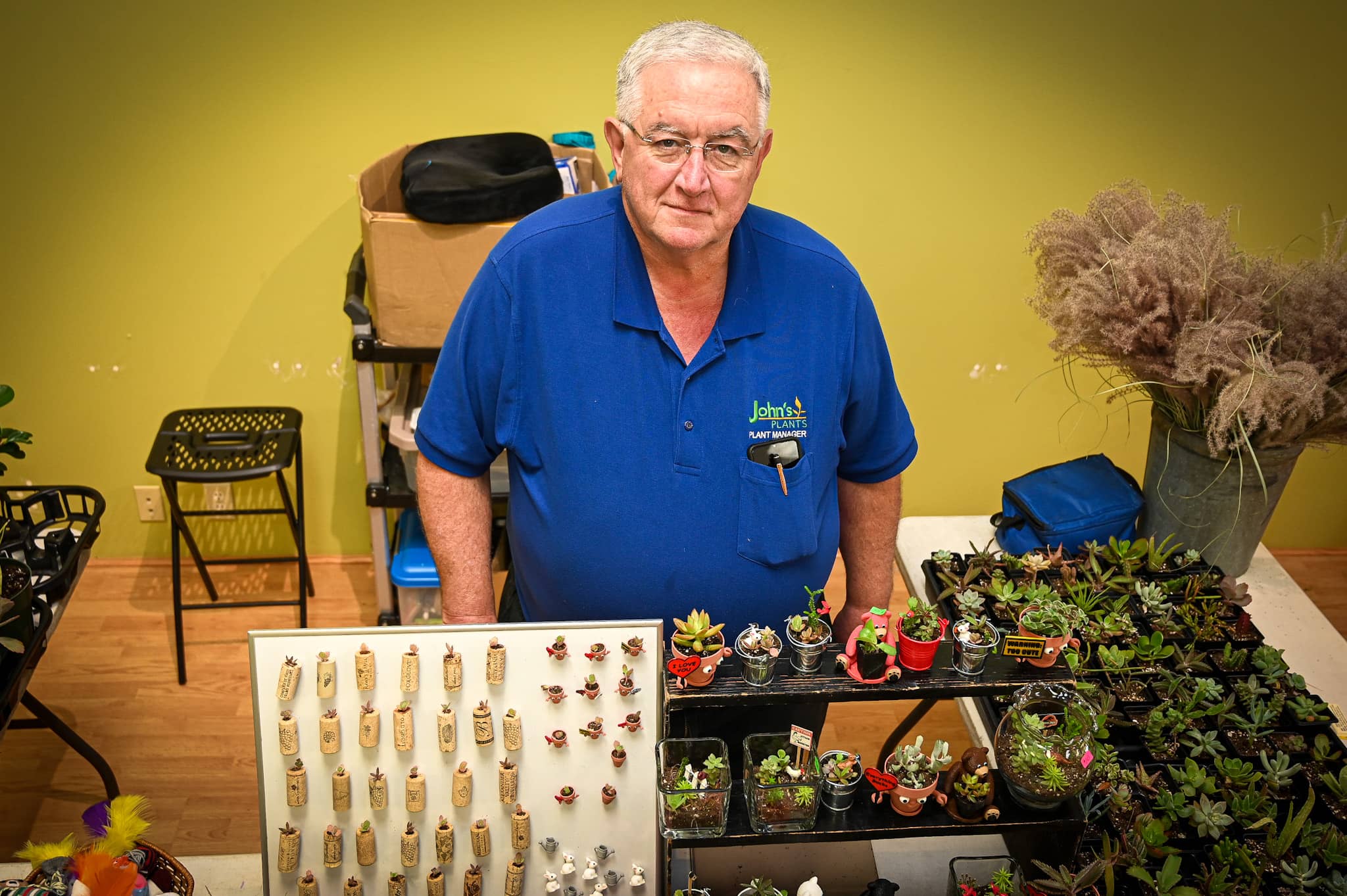 ---
This article is by Mary Sisk. Email her at msisk@rockrivercurrent.com or follow her on Instagram at @maryrrcurrent