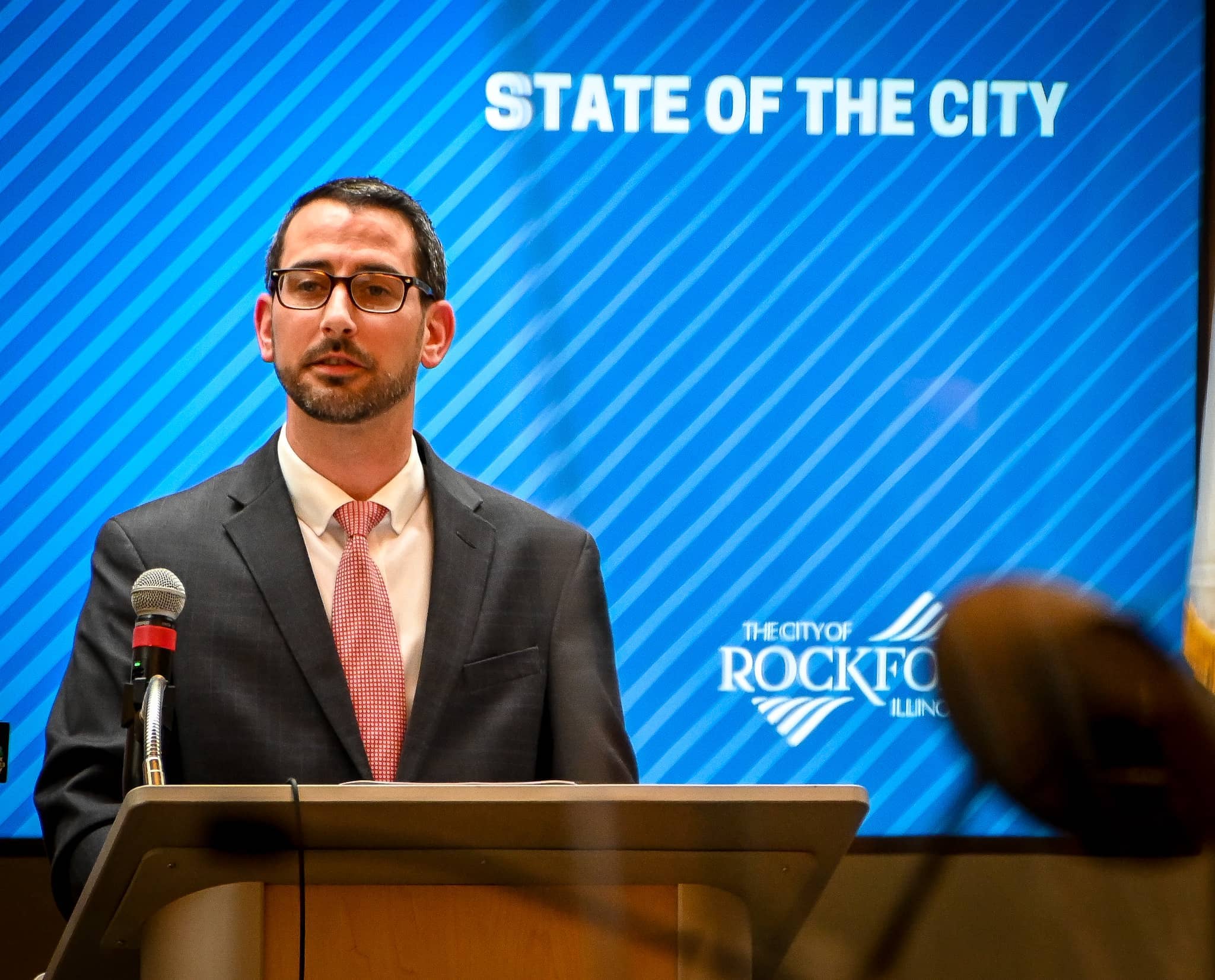 ROCKFORD — Mayor Tom McNamara said Tuesday he is both alarmed and heartbroken by a wave of violent crime committed by young people in the city.
The second-term mayor expressed those concerns during his annual State of the City address. About a third of the 27-minute speech was dedicated to public safety issues, and McNamara said an increasing amount of crime is committed by young people.
"Our officers are arresting 13-, 14-, 15-year-olds who are carrying guns, stealing cars, committing armed robberies. Even children as young as 8 years old are causing major property damage," he said. "As a father, this is absolutely heartbreaking. As mayor, it's just troubling to know so many of our young people lack a sense of belonging. They don't have hope. They feel that there's too few opportunities for them to succeed."
McNamara said reducing crime requires a wide-ranging approach that involves parents in the household, the city police, prosecutors and judges, nonprofit service organizations, schools and others. He said there must be intentional intervention in the lives of young people after they've experienced trauma such as physical or sexual violence to prevent a repeated cycle of violence.
While public safety, which McNamara described as the city's No. 1 priority, was the centerpiece of the speech, he also discussed property taxes, economic development initiatives, capital improvements and other programs the city has instituted in the past year.
"I truly believe that we are making progress every day to improve our community," McNamara said. "We are making decisions that we know are impacting the lives of our residents, and I believe we're literally changing their lives for the better."
You can watch the entire speech online here. We share a few highlights below.
Public safety
McNamara highlighted several programs the city has launched to help intervene when young people experience trauma, as well as programs designed to give youth more opportunities to be productive.
Some of those initiatives include a partnership with Rockford Public Schools for the Handle with Care program, which alerts school staff when a student has experienced trauma so teachers and administrators can offer additional support. In the first week that program led to 600 alerts for students.
The city also partnered with the Rockford Park District to launch Camp Hope, a trauma-informed summer camp, and to create a new educational and recreational summer curriculum.
The city also created Step Up, which allows youth involved in minor crimes to enroll in an adolescent family violence intervention program as an alternative to the court system. The city has also hired at-risk youth and worked with LT Construction to provide mentorship and workforce training to young people.
"It will take a long period of time for us to see the impact of these programs and how they help reduce violence in our homes and on our streets," McNamara said.
(story continues below photo)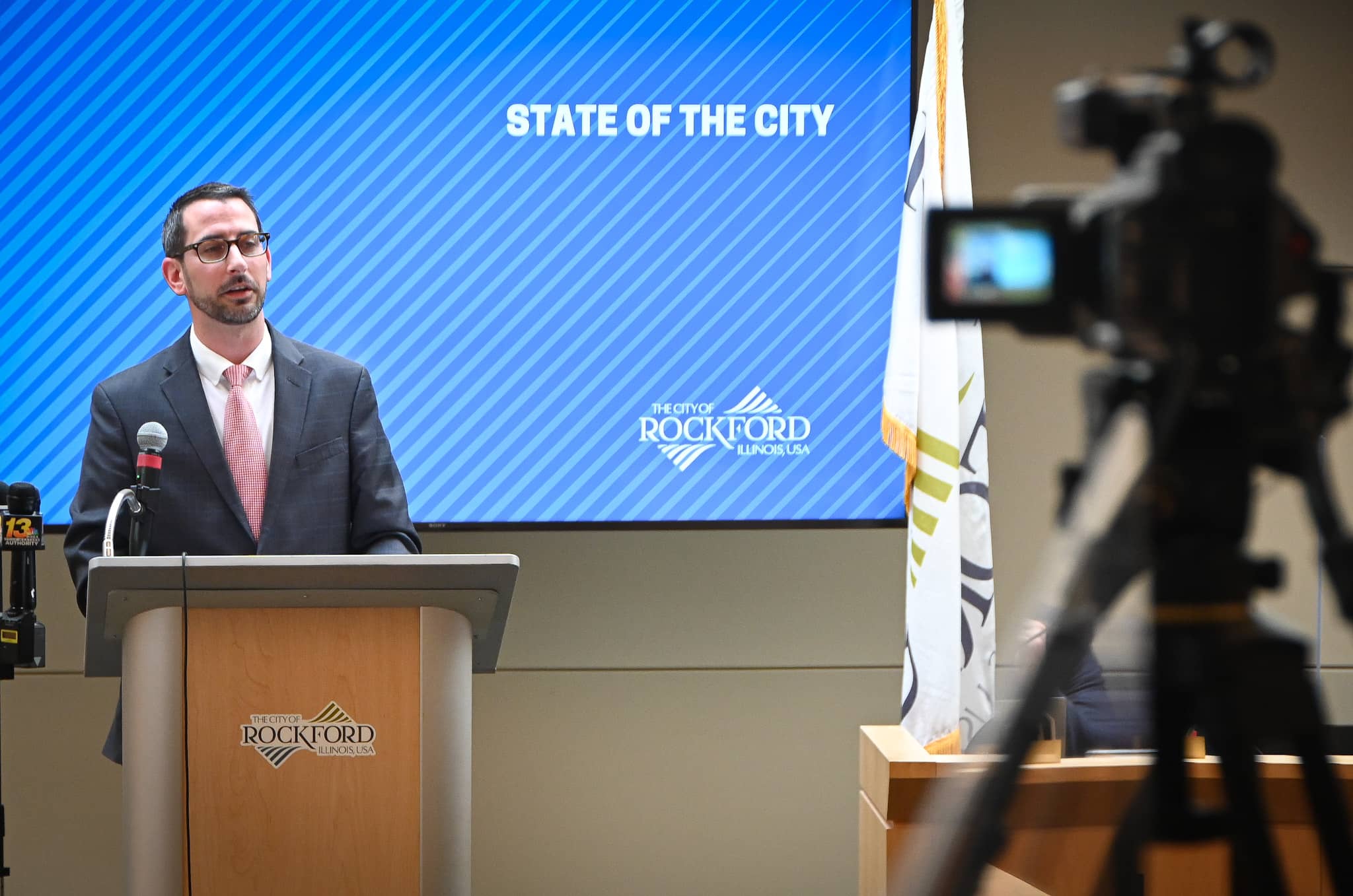 To that end, he said the city must also combat the violence happening now by investing in its police department. The city is adding police officers, including 10 sworn in last month, and it is investing in technology such as doubling the number of license-plate readers and gunshot detectors.
"As long as I am mayor of the city of Rockford, we are going to continue to invest heavily into the public safety of our citizens," McNamara said.
He also highlighted the co-responder program, which pairs police with mental health professionals on certain calls. That program has connected with 1,676 people during nearly 2,700 total interactions, he said. Of those interactions, 61% ended with a linkage to services.
"That's 1,022 patients who are now getting the help they need," McNamara said.
Economic development
McNamara also highlighted a slew of economic development initiatives, including the pending deal with Milwaukee-based J. Jeffers & Co. to redevelop the former Barber-Colman factory campus into a mix of living units and commercial businesses.
And he praised plans to redevelop a pair of vacant warehouses along Cedar Street into loft apartments, work to create new residential apartments at the former Hanley Furniture building site, which burned down in 2017, and the construction underway to build a new Rockford Public Library.
"We continue to rebound from the impacts of the pandemic," McNamara said. "In the latest jobs report issued just last week, the Rockford area saw the second largest increase in jobs across the state since April 2021 and the third largest decrease in unemployment rates."
Neighborhood improvement
Last month the city kicked off a new neighborhood improvement initiative that promises to flood six neighborhoods with resources and services designed to improve both the look of the area and quality of life for residents.
He said the city's Land Bank program has also improved neighborhoods by getting blighted properties back into the hands of responsible owners. Since its creation, 14 properties have been sold for nearly $430,000 he said. And, the city's partnership with Winnebago County to reimagine the Winnebago County Trustee Program has returned tax-delinquent properties to productive use, he said.
In the last 18 months, he said 723 parcels and 213 structures have been sold to private owners for more than $2.4 million.
The city also partnered with Rockford Area Habitat for Humanity on a $500,000 program that will help roughly 50 families make critical repairs to their homes.
Capital improvements
In November, the City Council approved the largest capital plan in Rockford's history, totaling $248 million over five years.
This summer alone, $48 million will be spent on 220 neighborhood blocks, as well as the "long overdue" repairs to Charles Street and West State Street, he said.
Some of the other improvements include widening and rebuilding East State Street between Bell School and Mill roads, improvements to Alpine Dam and enhancements along Logistics Parkway, he said.
The city also secured $12 million in Illinois Environmental Protection Agency funding to replace lead service lines. He said Rockford was one of the only cities in the state to absorb the cost at no increased fee to residents.
"I'm proud of the work that we've been able to accomplish together. However, I think we all know that work is absolutely not done," McNamara said concluding his speech. "I'm confident that we're going to continue to make positive changes in the lives of our residents.
"Our residents expect and deserve to be able to to say with pride that Rockford is their home."
This article is by Kevin Haas. Email him at khaas@rockrivercurrent.com or follow him on Twitter @KevinMHaas.