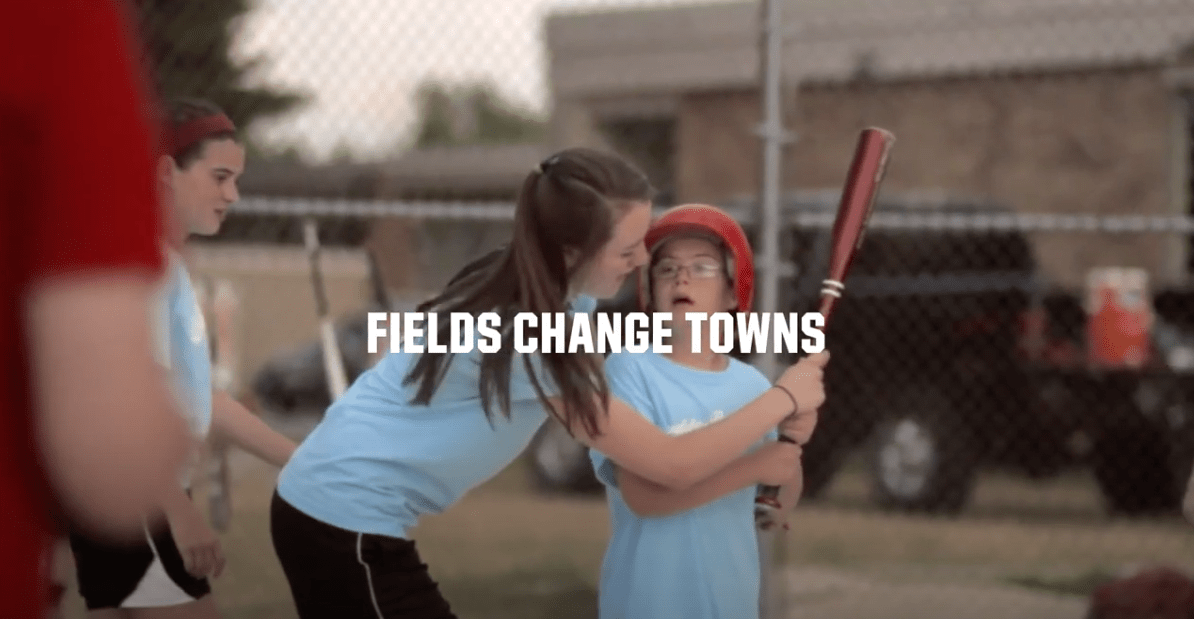 ROCKFORD — A new commercial from Dick's Sporting Goods sets out to highlight how sports change lives, and it uses footage from a Rockford baseball program as part of its evidence.
The Rockford Park District's Buddy Baseball League, which pairs athletes with special needs with an able-bodied teammate, makes a brief cameo in what Dick's says is its largest brand campaign to date. The national sporting goods retailer is celebrating its 75th anniversary with a marketing campaign called "Sports Change Lives" that it says celebrates the principles the brand was founded on.
Video shot by Rockford-based artist and videographer Pablo Korona appears in about three seconds of the minute-long commercial under a title card that reads "Fields Change Towns." Korona shot the footage more than a decade ago as part of the Rockford Park District's successful campaign to win the 2012 National Gold Medal Award for Excellence in Park and Recreation. He later used it to create a feature video for his Our City, Our Story project.
"Our City, Our Story has helped Rockford get a lot of exposure and I'm really proud of that," Korona said. "We've got to keep telling our story, that's how we're seen. … We told the story 10 years ago and it's still relevant."
At 39 seconds into the commercial, Matthew Lapp of Rockford is shown getting help from a buddy to put on his helmet. Lapp became the exuberant face of Buddy Baseball in Korona's video a decade ago. He would enthusiastically clap as he ran the bases after a hit in front of a crowd of family members cheering him on.
"Just to see the joy in his eyes, how excited he would get, especially if he would hit the ball and run, was just really awesome," said Kiki Lapp, Matthew's mother. "There was always a lot of tears at each game."
Dick's Sporting Goods Commercial
Matthew Lapp is now 22, and he was thrilled to see himself in the commercial, his mother said.
"We just never in our wildest dreams thought that he would be in a Dick's commercial, and that it was with the Buddy Baseball program made it even more special," Kiki Lapp said.
Buddy Baseball, Kiki Lapp said, was one of the first opportunities for sports and recreation her son had.
"It really meant the world to us. He loved it, we loved it," she said. "It was a very special time for us."
Buddy Baseball was brought here in 2009 by Sheri White, who was looking for a way to get her son, also named Matthew, involved in sports.
Matthew White, who is now 29, only recently stopped playing.
"I just think it's awesome that they found they story," Sheri White said of the commercial.
"I'm glad they focused on the fact that it wasn't about competition or playing a game to win. It was really about being in a circle of people who supported one another," White said. "I'm thrilled that a company as large as Dick's appreciates that there's all different types of athletics in sports."
Korona said Dick's reached out to him several months ago to inquire about footage for the commercial. The company, which has more than 850 retail locations across the country, launched its campaign toward the end of last week.
"It's interesting how people have gravitated toward that story. It's a really beautiful thing," Korona said. "I'm not really a sports guy, but I do really enjoy how sports make you feel. That's their message of the commercial: Sports is more than sports."
Our City, Our Story video
---
This article is by Kevin Haas. Email him at khaas@rockrivercurrent.com or follow him on Twitter at @KevinMHaas or Instagram @thekevinhaas