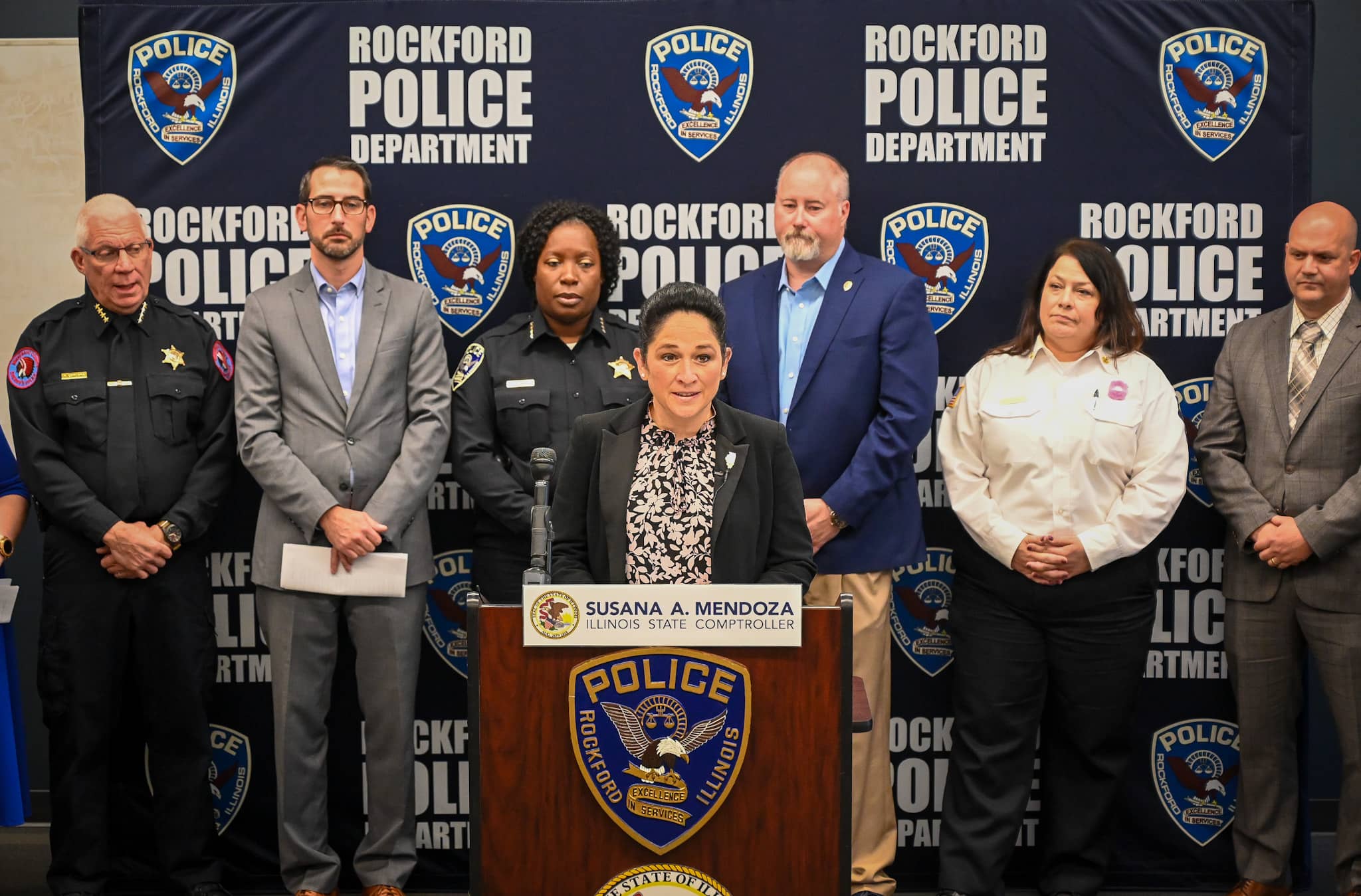 ROCKFORD — New legislation backed by Illinois Comptroller Susana Mendoza and multiple local leaders aims to fix an issue in Springfield that kept some families of first responders who died in the line of duty from receiving thousands of dollars in death and burial benefits.
Mendoza joined a group of local lawmakers, police, firefighters and other supporters at the District 3 police station on Friday to push for the passage of the Gold Star and Fallen Heroes Family Support Act. The proposed House Bill 5785 creates an ongoing appropriation for those benefits to be paid when the amount allotted in the state budget doesn't cover all the claims in a fiscal year.
As it stands now, families are forced to wait for the General Assembly to pass a supplemental appropriation when the allocated funds run out.
"Families of those who have made the ultimate sacrifice should never have to worry about how they're going to put food on the table as they grieve for their loved ones," Mendoza said. "Let us honor fallen first responders and armed service members by limiting the suffering of the families they leave behind."
The bill is sponsored by state Rep. Dave Vella, a Democrat from Loves Park, who will press for its passage during the General Assembly's veto session next month. So far, it has bipartisan support.
"I want to make sure no family has to wait for the benefits they deserve again," Vella said. "It's unacceptable for them to possibly have to deal with bureaucratic hurdles after the tragic loss of a loved one in the line of duty. Ensuring that support will be available for these families at all times is an expression of our commitment to everyday heroes in our community."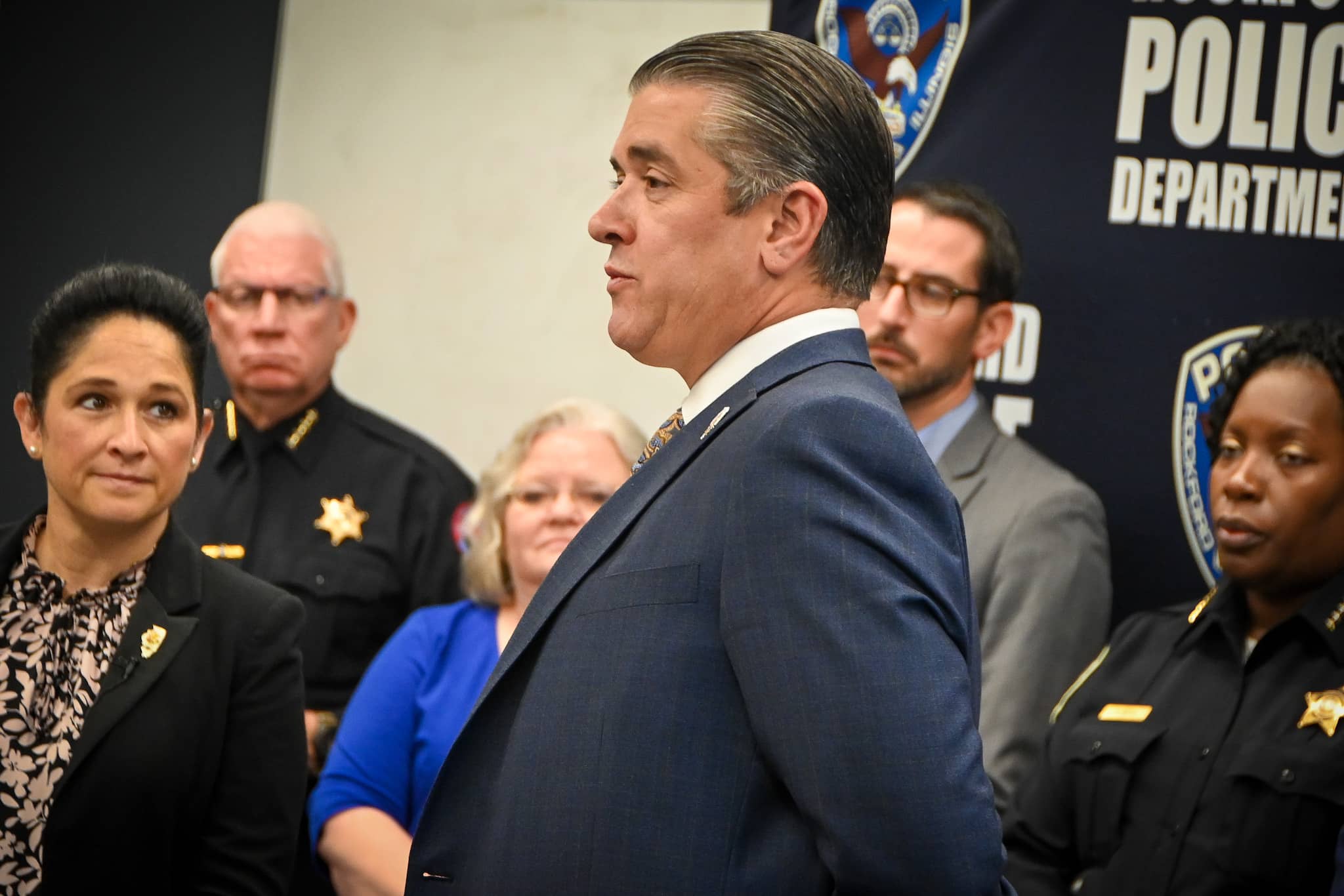 The bill would also extend the deadline for families to apply for the benefits. The existing Line of Duty Compensation Act provides benefits if a claim is filed within a year of the death of a law enforcement officer, firefighter, paramedic, armed forces member and other state employees killed in the line of duty. That would extend to two years under this proposal.
"Many times we've noticed that families don't even realize that they're eligible for this claim," Mendoza said. "They're busy grieving the loss of their loved one, and they may miss the deadline to apply for these benefits if it falls within that one short year."
Mendoza said the issue was brought to her attention in May during the Illinois Fallen Police Memorial Ceremony in Springfield. After the 11 officers who died in the line of duty in the past year were honored, the mother of one approached Mendoza and whispered the issue they faced.
Tammy Pierce, the mother of Brooklyn police officer Brian Pierce Jr., said her family had still not received benefits nearly 10 months after the officer's death. Not only was the family dealing with his death, but they lost their home to an electrical fire four months later.
"This is something no family should ever have to wait for," Rockford Police Chief Carla Redd said. "The men and women who put this uniform on every day go out and sacrifice. They put their lives on the line day in and day out."
The state had allocated $5 million for line of duty benefits, but Mendoza said that money had been exhausted. She typically makes such payments to families within 24 hours of receiving the notice, but those claims weren't being sent to the comptroller because the state budget had no more money allocated to the cause.
"That's how many first responders fell, that it wasn't even close to matching the amount that was required. That's a really sad testament to where we are," Mendoza said. "It should never come to this. No family should ever have to wait for these payments."
Rockford AFFI Local 413 Union President Christopher Scrol said the new law will give first responders the peace of mind that allows them to continue to do their job.
"Our families shouldn't have to worry about missing a mortgage payment or a car payment, struggling for groceries or winding up in collections because they're waiting for Springfield to make them a priority," Scrol said.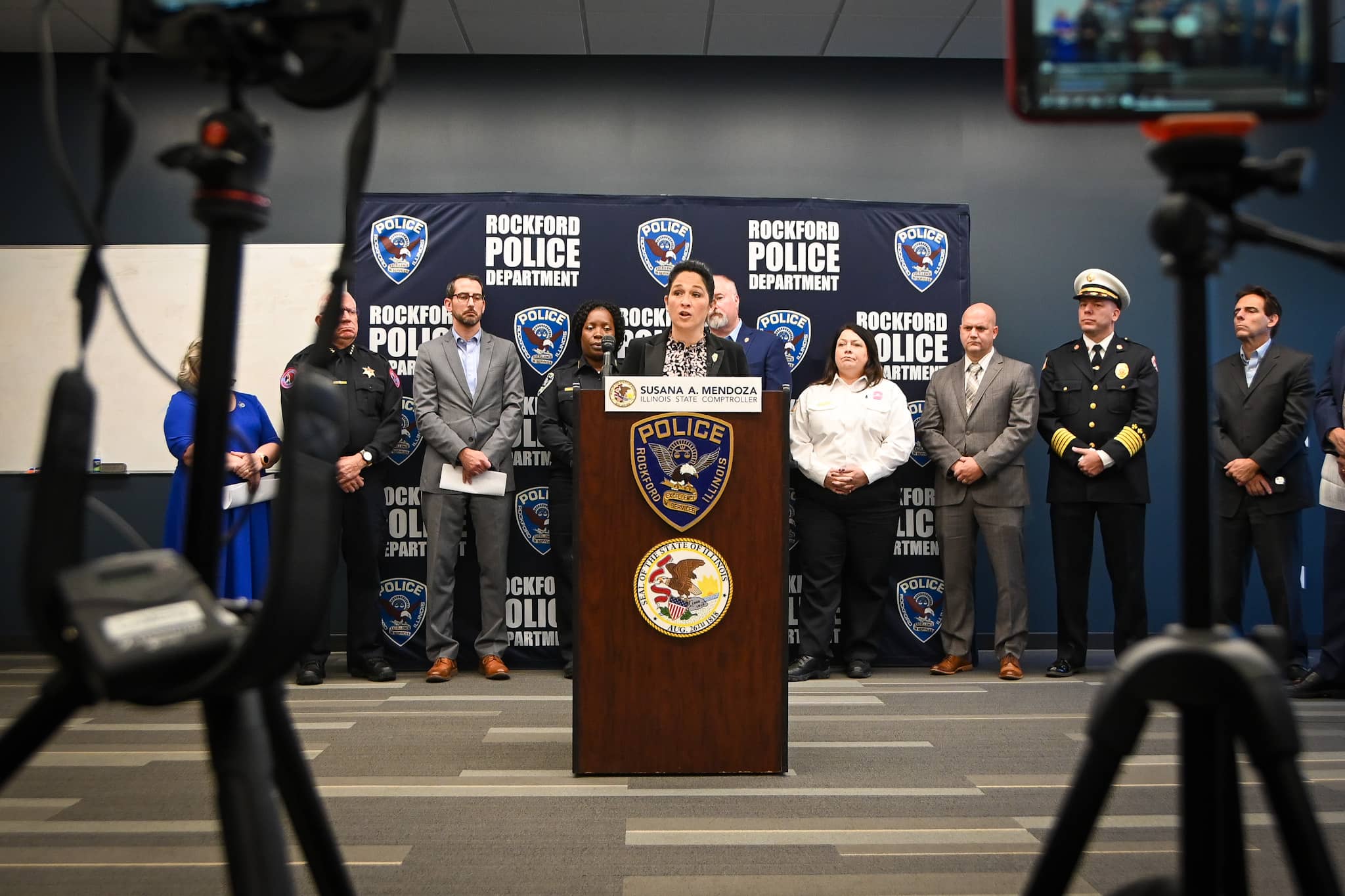 ---
This article is by Kevin Haas. Email him at khaas@rockrivercurrent.com or follow him on Twitter at @KevinMHaas or Instagram @thekevinhaas.