ROCKFORD — A competition that gives local inventors and entrepreneurs a chance to pitch their products to investors is getting ready for its comeback.
Stateline Fast Pitch, an annual event that allowed inventors to make presentations in a platform that somewhat resembles the "Shark Tank" TV show, was scrubbed the past two years because of the coronavirus pandemic. But EIGERlab, the organization behind the competition, said its "premiere event" will return either later this year or early next year.
"They're working hard to put Fast Pitch back together," said Chris Agnitsch, board president at EIGERlab, a nonprofit that partners with Rockford MakerSpace to assist entrepreneurs with everything from product development to production. "It's always been a great day. We see exciting opportunities and look forward to be able to do Fast Pitch again."
That announcement was made as part of a news conference Tuesday inside EIGERlab's new digs at 304 N. Main St., next to the Coronado Performing Arts Center. EIGERlab moved into that space in June after previously operating in Zenith Cutter in Loves Park.
The press event was called to announce $40,000 in American Rescue Plan funds that the Winnebago County Board has dedicated to EIGERlab.
That money includes $20,000 to help pay to hire an outreach and administrative coordinator, who will provide local inventors with product development assistance. There is also $5,000 to go toward the annual Fast Pitch competition and $15,000 to help inventors develop their products.
"Product development is not an easy process and it's not a cheap process. Individuals can spend thousands of dollars just getting an initial design," Agnitsch said. "After that it might take tens of thousands of dollars to develop a product."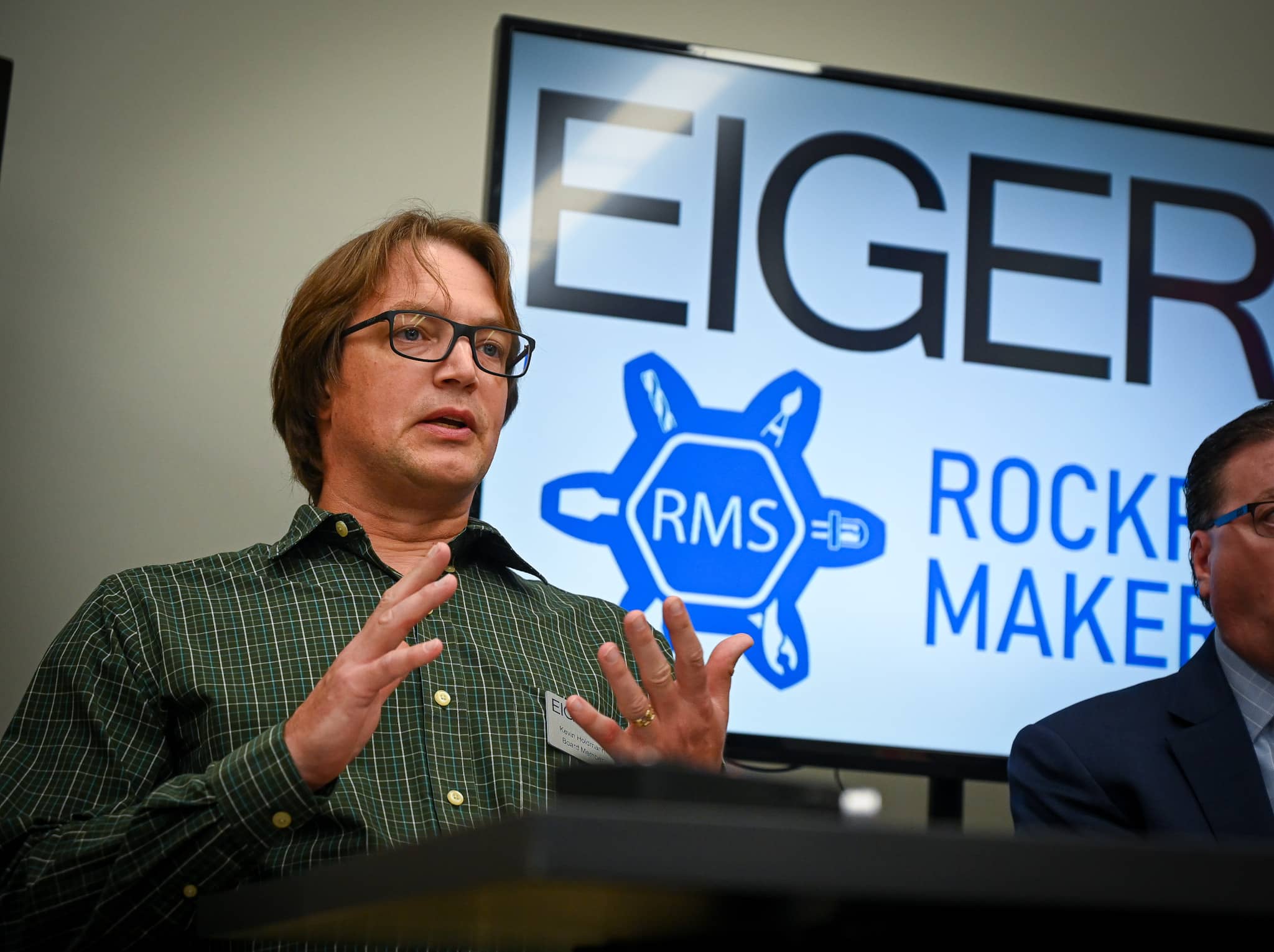 After development, it could take hundreds of thousands of dollars more to bring the idea to the market.
"It's important that individuals understand what they might be getting into to be successful," Agnitsch said. "That they get their financing in line and they're really prepared for what's coming next as their product grows."
He said the funds will help EIGERlab, which was founded in 2005, assist entrepreneurs with their first steps.
"Some of them will develop businesses," he said. "Some of them will develop products that get absorbed into other companies in our community, but it's an important first step."
Last year, Winnebago County received $54.8 million in federal coronavirus relief funds, and a portion of that funding is being dedicated toward economic development initiatives.
"We cannot maintain a robust economy based on services alone. We must continue to support product-based business innovation and commercialization," Winnebago County Board Chairman Joe Chiarelli said. "Production of needed goods must be balanced with services."
The county allocated $50,000 to each of the 20 County Board districts, and boards members were tasked with determining initiatives worthy of the funds.
Paul Arena, R-7, Dave Kelley, R-9, and Angela Fellars, D-19, each allotted a portion of their funding to EIGERlab.
"I'm delighted to welcome EIGERlab back home in the 19th District," Fellars said in a statement to the Rock River Current. "I'm excited to empower local entrepreneurs and inventors to break through common barriers and develop their products and businesses."
The new EIGERlab home includes a coworking space for businesses. Its partner organization, Rockford MakerSpace, is a nonprofit workshop and laboratory that provides access to the equipment and other assistance inventors may need.
Fast Pitch, EIGERlab's biggest public event, has helped dozens of entrepreneurs improve their skills at pitching products and grow their business. Among the notable participants were Tracie and Glen Burress of Rockford, who won in 2014 for their invention SockTabs. They later pitched the product on "Shark Thank" and received a $50,000 investment from FUBU chief executive Daymond John.
---
This article is by Kevin Haas. Email him at khaas@rockrivercurrent.com or follow him on Twitter at @KevinMHaas or Instagram @thekevinhaas.