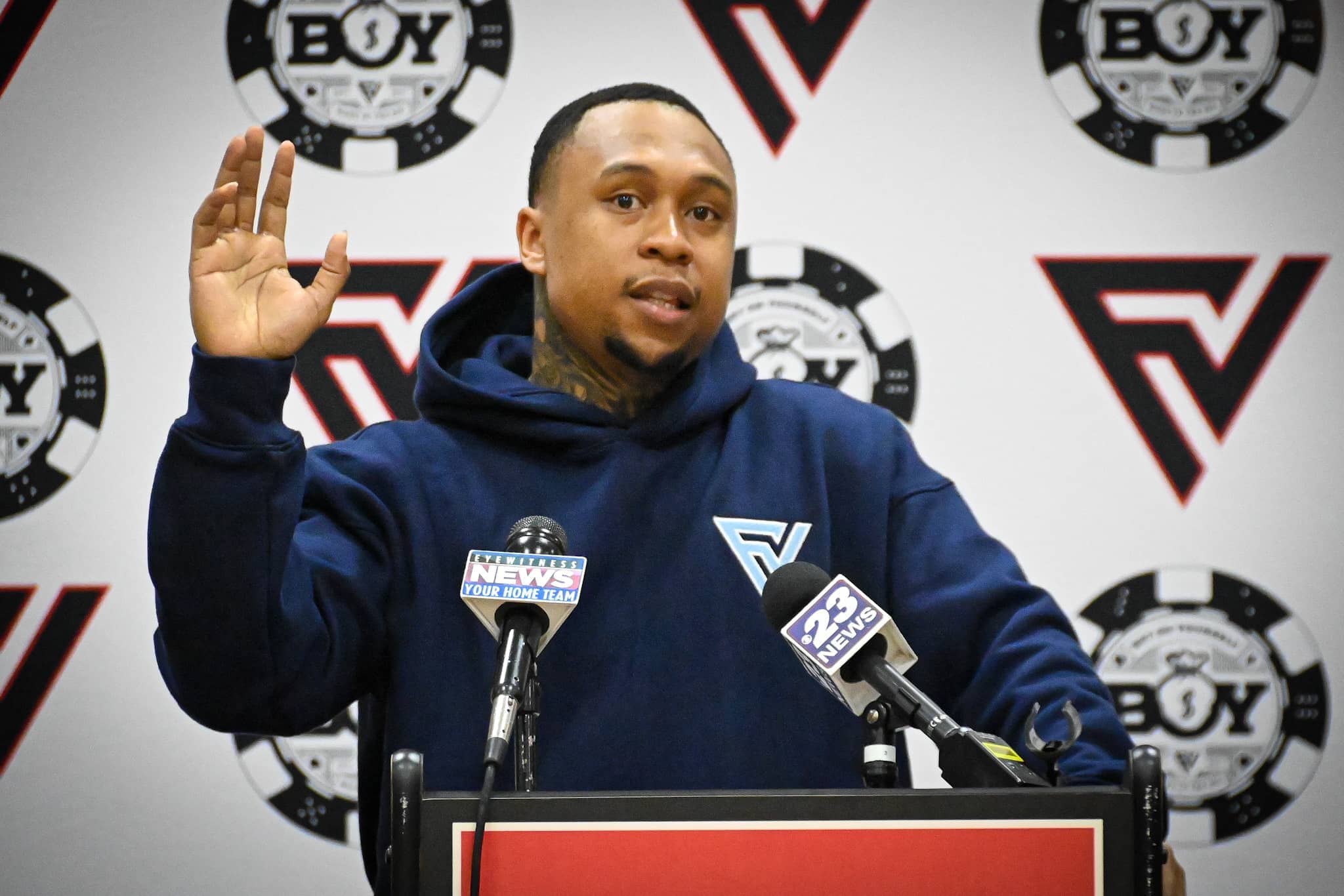 ROCKFORD — NBA All-Star and world champion Fred VanVleet is bringing his basketball camp and other festivities back to the city this summer after a two-year hiatus because of the coronavirus pandemic.
The Fred VanVleet Fest will be a three-part series this year that includes a night of bowling, a weekend basketball camp for grades K-12, and a night with a dunk and 3-point contest and other activities.
"We're excited to bring back some summer fun to Rockford and help provide an outlet for our city's kids and parents," VanVleet said in a statement Thursday. "And we're going to make sure we push all attendees to get better on and off the court to help make this community a better place to call home."
You can register for the festival at FVVFest.com.
The basketball camp and festival was held at the UW Health Sports Factory in previous years, but this year it has a new location at Auburn High School, VanVleet's alma-mater .
"Now that we're reintroducing it, why not bring it back to his alma-mater? We're on the west side of Rockford where he grew up at and where he broke records at," said Marquez Beeks, marketing director for Fred VanVleet. "Now everybody in the city can come to Auburn High School and see exactly the impact he's put on Rockford."
The VanVleet Family Foundation, which produces the summer fest, along with Auburn and Rockford Public School officials, Mayor Tom McNamara, Beeks and Cherry Bowl General Manager Tony Hall announced details of festival Thursday at Auburn High School.
"We are truly lucky to have Fred walk these halls and dominate this very court that we're standing on," said Brad Pemberton, athletic director at Auburn. "He could've easily moved on from Rockford and from Auburn High School as many professional athletes do, but he has never forgotten his roots and wants to do all he can to make Rockford a better place for everybody."
Bet On Yourself Bowling
Where: Cherry Bowl, 7171 CherryVale N. Blvd., Cherry Valley
When: 6-10 p.m. Thursday, June 23
About: The event features cosmic bowling, a silent auction, prizes, music and other activities. You can purchase a time slot from 6 p.m. to 7:30 p.m. or 8:30 p.m. to 10 p.m.
Cost: $100 per time slot, includes bowling and shoe rental for up to five people per lane.
FVV Experience 
Where: Auburn High School, 5110 Auburn St., Rockford
When: 5-9 p.m. Friday, June 24
About: There will be on-court activities, games, giveaways, and 3-point and dunk contests. Children under the age of 14 must be accompanied by an adult, and no outside balls will be allowed in the facility.
Cost: $5 per person. Kids registered for FVV Summer Camp are admitted free.
FVV Summer Camp
Where: Auburn High School, 5110 Auburn St., Rockford
When: 10 a.m. to 3 p.m. Saturday-Sunday, June 25-26. (K-3rd grade camp runs 10 a.m. to noon)
About: The weekend basketball camp is open to boys and girls in grades K-12 and serves as the finale to FVV Fest. Participants will receive a T-shirt, lunch and training from Fred VanVleet and other basketball trainers, coaches and other experts.
Cost: $100 per participant
You can register at any of the events at FVVFest.com.