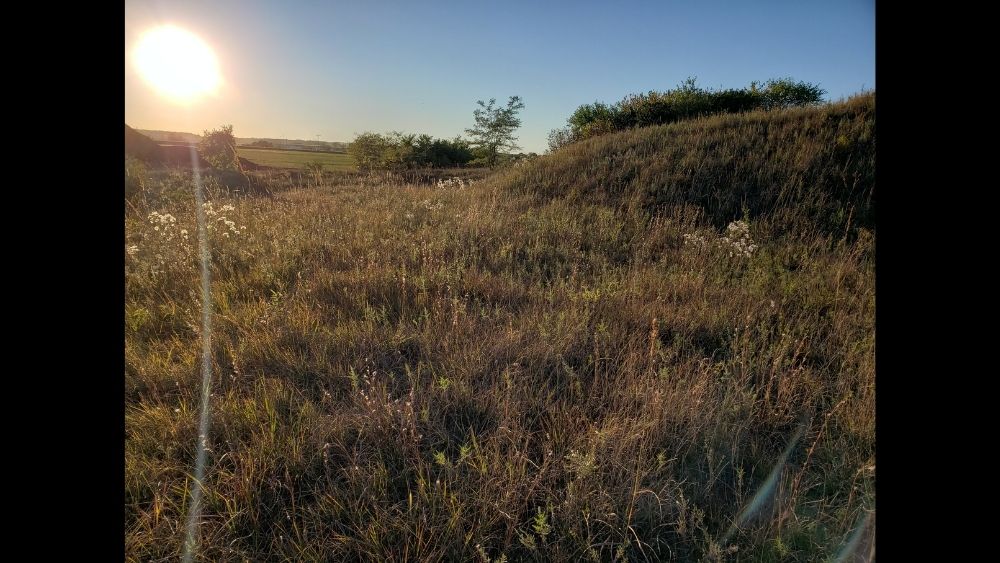 ROCKFORD — Jennifer Kuroda hopes history repeats itself with the Bell Bowl Prairie.
More than 50 years ago a telegram helped save the rare native prairie from extinction. Now, with seemingly every other form of communication exhausted, telegrams have again been deployed as conservationists hustle against a ticking clock to prevent the land from being bulldozed for an airport expansion.
After bombarding airport officials and elected leaders with phone calls and emails, Kuroda is among a small group that added the old-school communication tool to their arsenal.
"Now it's the 11th hour, but I feel I have to do everything possible," said Kuroda, president of the Sinnissippi Audubon Society. "I know it as this great birding location, and what a shame that it would disappear."
The 5-acre patch of prairie is part of a Chicago Rockford International Airport expansion that promises to strengthen the airport's success as the fastest growing cargo airport in the world. It would also create new jobs for one of the key economic driver's in the region. But conservationists say that comes at the expense of one of Illinois' few remaining native prairies, a patch of land state endangered plants and birds have called home.
"In this little tiny prairie that we're on there's over 60 plants that are interacting with each other to become this tiny little biodiverse area," Kuroda said. "I'm getting goosebumps right now just thinking about it. This is an amazing 10,000-year-old place that plants have grown, and for us to destroy it is just heartbreaking."
(story continues below telegram)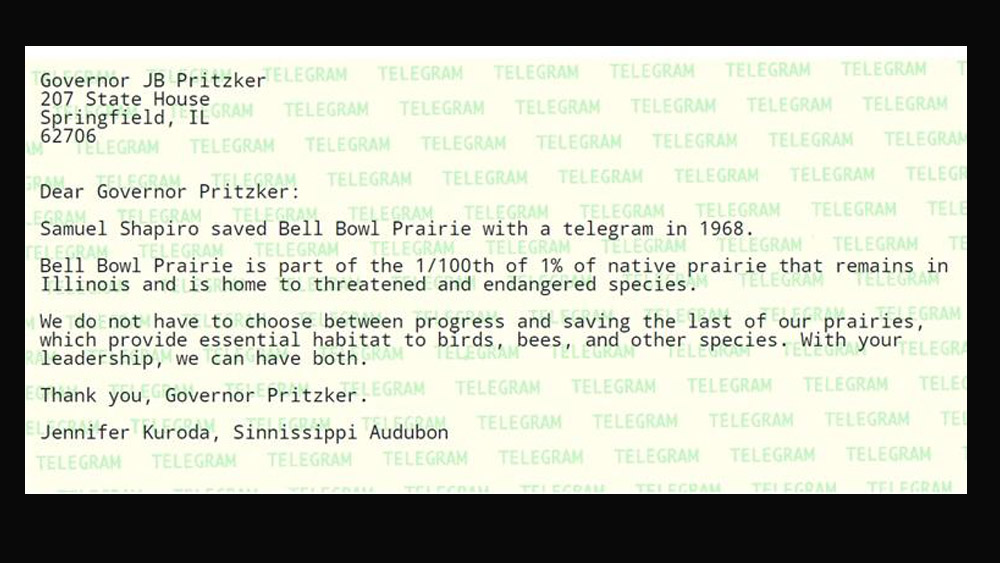 A similar situation was playing out in 1968, when then Gov. Samuel Shapiro sent a telegram to the Greater Rockford Airport Authority and pleaded with them to spare the land. At that time, the land was to be excavated to provide fill for an airport runway extension, according to a May 1968 article in the Rockford Register Republic, a predecessor to the Register Star.
"I realize you have an obligation to expand facilities to meet growing aeronautical needs of the Rockford community," Shapiro wrote in the telegram. "I simply ask you and other members of the Airport Authority to reexamine the problem to see if this area can be temporarily saved."
The telegram and the work of George Fell, the found of the Natural Land Institute who fought to save the prairie from bulldozers, led to the land being spared, Kuroda said.
Kuroda and others use an online service called itelegram.com to send the traditional paper telegram. In 1968 the telegram came from the governor. Kuroda's is going to the governor.
"We do not have to choose between progress and saving the last of our prairies, which provide essential habitat to birds, bees, and other species," Kuroda wrote in her telegram to Gov. JB Pritzker. "With your leadership, we can have both."
The airport expansion was put on hold after an endangered rusted patch bumble bee was found in August in the prairie. Work is set to resume Monday once the bee foraging season is over.
Airport officials note that they went through an environmental assessment in November 2019 and received a "Finding of No Significant Impact" from the Federal Aviation Administration.
The airport has also volunteered to work with the Illinois Department of Natural Resources to relocate two state-endangered plant species — the prairie false dandelion and large-flowered penstemon — that were found on the site. IDNR has completed its initial fieldwork and it and the airport are working on a plan to relocate the plants before Monday, Zack Oakley, the airport's deputy director of operations and planning, said in a statement provided via email.
The Save Bell Bowl Prairie group is continuing to work on ways to spare the land from destruction including potential legal action and in-person demonstrations.
This article is by Kevin Haas. Email him at khaas@rockrivercurrent.com or follow him on Twitter at @KevinMHaas.