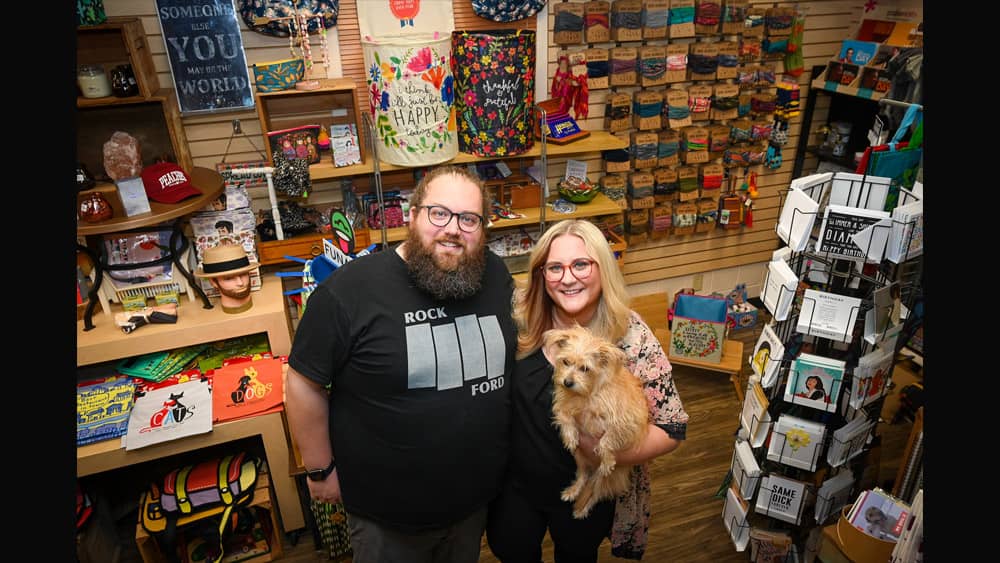 ROCKFORD — Before a devastating flood nearly sank his business in its first three months, vinyl was not part of Skyler Davis' plan for his shop.
He was forced to rethink that after Labor Day 2006, when nearly stationary storms dumped 3 inches of rain an hour on the city and filled roads with fast-moving water. Hundreds of homes and businesses in the Keith Creek watershed were flooded.
Culture Shock, Davis' startup focused on local band memorabilia and other merchandise, was filled with standing water, mud and dirt. The walls and carpeting were ruined, as was much of the inventory of belts, buttons, T-shirts and stickers.
So Davis, a self-professed music nerd, turned to his personal collection of vinyl to keep the business afloat.
"We accidentally became a record store from that," he said. "I was 24. I had no finances, really, or credit yet. I sold my personal record collection through the store to keep the store going."
Today, new and used records make up roughly 70% of Culture Shock's sales, Davis said. And it was during the flood aftermath that he met Lauren, his future business partner and wife. She helped expand the store's offerings and grow its reach through grassroots and social media marketing.
The flood that nearly destroyed Culture Shock also turned it into what it is today. Call it a perfect storm.
On Saturday, the couple will celebrate 15 years of business at Culture Shock, which in 2013 moved from its original Charles Street location across the street to 2239 Charles St.
In a decade-and-a-half of business, Lauren and Skyler Davis have grown their brand and become champions of the city's small business community, helping other local entrepreneurs capture their potential.
"If we didn't have what someone was looking for we wanted to share another local business with them," Lauren Davis said. "That's how we got very involved in the community."
'Little moments' lead to local business support
In 2010, Lauren founded Winnebago Buy Local with Frank Schier, the former publisher of the Rock River Times weekly newspaper who died in 2017. The coalition of business owners aims to support local entrepreneurs in their efforts. It's a fitting role for Lauren, who also runs her own marketing business Lauren Davis Creative.
Her parents had fostered her entrepreneurial spirit from a young age. Lauren's mom, Jane Femminella, owns Canine Crunchery, a dog treat bakery, and her father is a developer who "was just constantly bringing us into a new local business," she said.
"I just spent a lot of time in local businesses as a kid, and I was always the person in groups of people that would say, 'Let's try this new place' or 'let's go to this coffee shop,'" she said. "I didn't realize that those little moments would make me so passionate about supporting local businesses now."
(story continues below video)
Tied together through music
She and Skyler have long been tied together by their love of music, even if record sales weren't part of the original business plan for Culture Shock.
Skyler said he initially resisted selling records after watching physical media companies struggle. Just about three months before Culture Shock opened in 2006, Media Play, the longtime music, movies and books store, went out of business.
But, as Culture Shock started to rebuild its original inventory after the flood, it now had a customer base drawn in by Skyler's personal record collection.
"People started asking, 'What happened to the records? Where are the records?'" he said.
So now records and used stereo equipment are a mainstay, along with Rockford-themed coffee mugs, T-shirts and a host of other memorabilia inspired by music, arts and culture.
"Our store is full of gifts that have a story or have some kind of purpose or value behind every single thing you're buying," Lauren said.
Celebrate 15 years with Culture Shock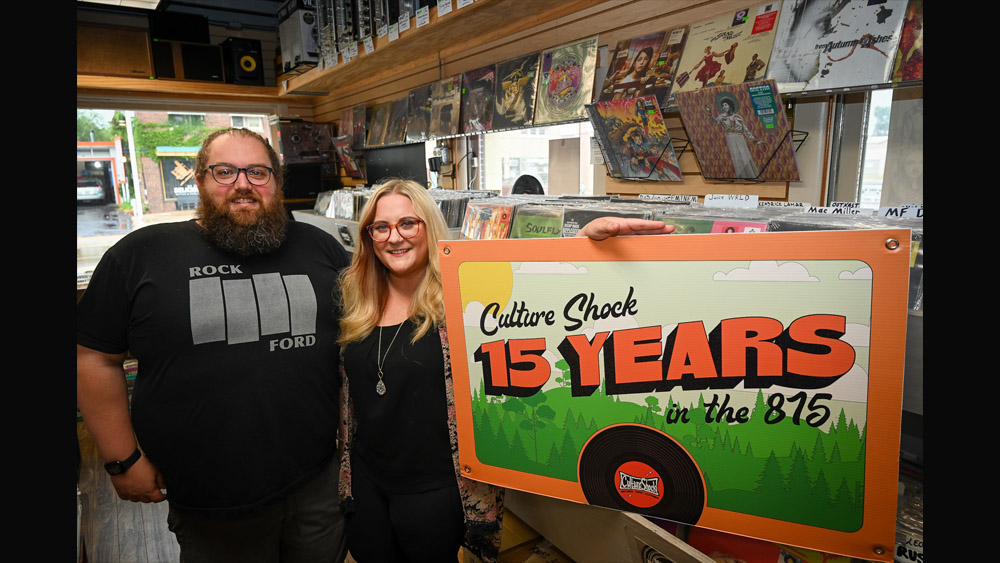 What: Culture Shock is hosting a 15-year anniversary celebration Saturday with DJs, a food truck, a pop-up shop from Velvet Robot Coffee Lab and a 15% off sale. It will also debut new Culture Shock merchandise.
For more details: Read the full event listing on Facebook here.
About | Culture Shock
Where: 2239 Charles St., Rockford
Hours: 11 a.m. to 6 p.m. Tuesday through Saturday
On the web: cultureshockshop.com; facebook.com/CultureShockShop; instagram.com/cultureshock_
This article is by Kevin Haas. Email him at khaas@rockrivercurrent.com or follow him on Twitter at @KevinMHaas.