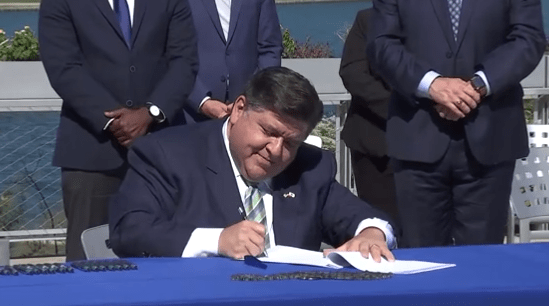 Gov. JB Prtizker on Wednesday signed sweeping energy overhaul legislation into law that is intended to address climate change and establish progressive clean energy standards.
The law also provides subsidies to renewable and nuclear energy producers and saves the Byron nuclear plant from closure.
Supporters of the law have heralded it as leading the nation in the fight against climate change while opponents said it could prove too costly for ratepayers.
"If the crux of public service is the fight for a better tomorrow, then there may be no position more courageous, more necessary than to take action on climate, knowing that the impacts we seek won't come to fruition until long after our tenure in elective office," Pritzker said during a news conference outside the Shedd Aquarium in Chicago.
"We can't outrun or hide from climate change.  … We've seen the effects of climate change right here in Illinois, repeatedly, in the last two and a half years alone: A polar vortex, devastating floods, microbursts that destroyed buildings, record lake levels, extreme heat and emergency declarations in more than a third of Illinois' counties."
Key in the Rockford region, the law provides $694 million over five years to subsidize nuclear plants owned by Exelon Corporation. The company had said it would take the Byron Generating Station offline on Monday if the legislation hadn't passed. Instead, this week it's working on refueling, a company spokesperson told the Rock River Current.
Governor Pritzker signs historic energy legislation, cementing Illinois as a national leader in combatting climate change. https://t.co/bktwLQzHAx

— Governor JB Pritzker (@GovPritzker) September 15, 2021
The law's main focus is to put Illinois on a path to carbon-free energy by 2050. The goal is to increase how much energy is produced by renewable resources from less than 8% now to 40% by 2030 and 50% by 2040.
Estimates on how much the law would increase ratepayers' bills have varied. The Citizens Utility Board estimated an increase of roughly $3 to $4 a month over the next five years, according to Capitol News Illinois. Crain's Chicago Business estimated the increase could be between $7 and $8 monthly.
"The fact is, no one knows how much this piece of legislation is going to cost Illinois ratepayers," said state Sen. Donald DeWitte, a Republican from St. Charles, according to Capitol News Illinois. "What we do know is that it will be borne by all ratepayers in the state."
Others criticized the bill for rewarding Exelon, the parent company of ComEd, which has been embroiled in a bribery scandal involving state lawmakers.
"The General Assembly is choosing to continue rewarding scandal-plagued ComEd with guaranteed profits," Abe Scarr, director of the Illinois Public Interest Research Group, told the House Executive Committee last week, according to the Chicago Tribune. "As a matter of policy, we do not need to guarantee utility profits to eliminate carbon emissions from the power sector, nor to invest in renewable energy, nor to achieve other praiseworthy goals of this legislation."
The bill passed the Senate 37-17 on Monday after it was cleared by the House 83-33 on Sept. 9.
"Our goal all along was to enact reliable, renewable and afforable energy policies that put Illinois in a position to lead the nation," Senate President Don Harmon said Wednesday at the news conference. "That's exactly what we're doing here today."