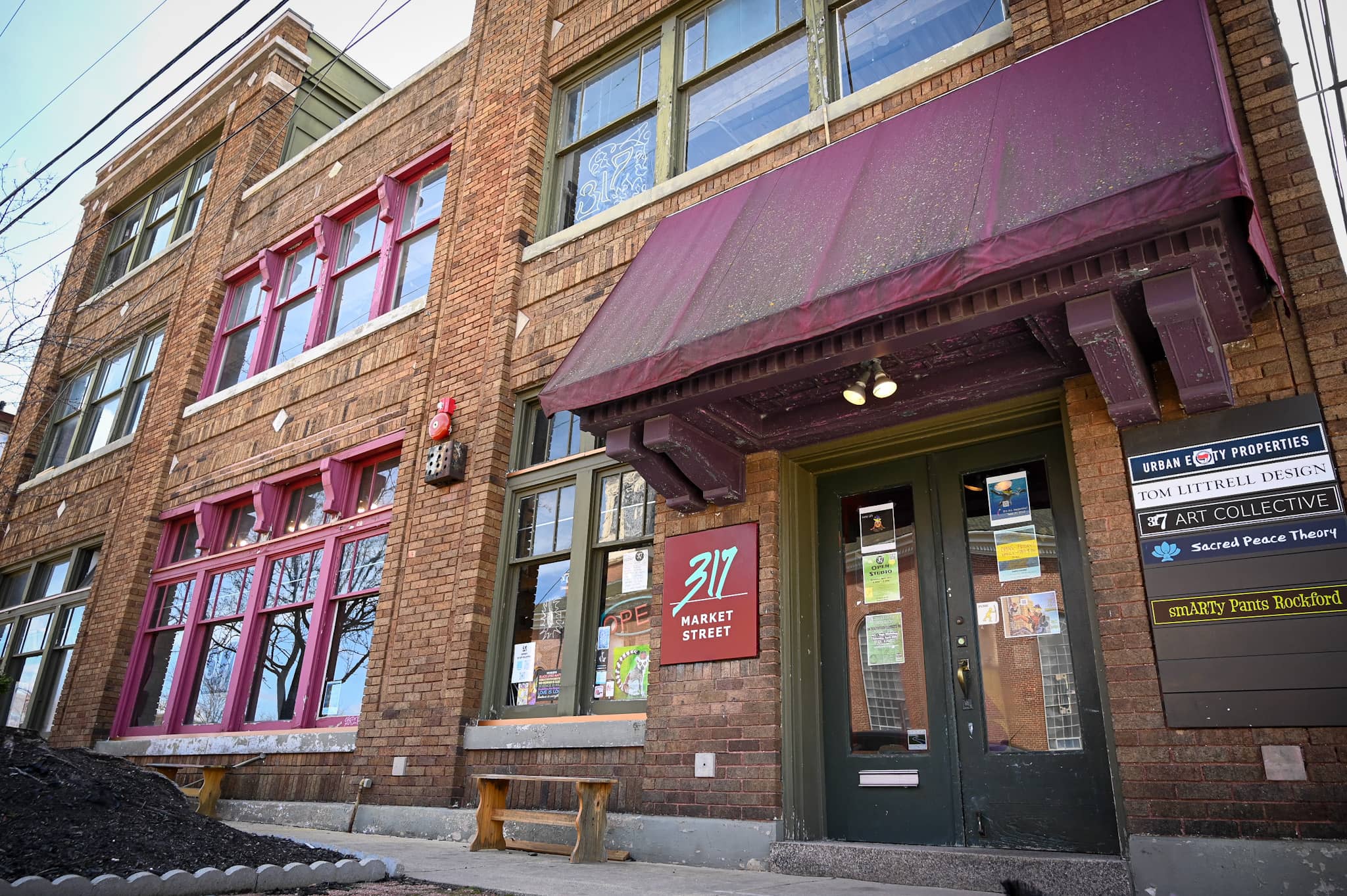 ROCKFORD — Sick of Santa and mistletoe? 317 Art Collective has a different holiday tradition for you to celebrate.
The art collective will host Rockford's first Krampusnacht procession on Dec. 2. Krampusnacht is a European practice named after the folklore figure Krampus, who kidnaps naughty children.
After the procession, the collective will host the opening reception for its upcoming resident artist show, Twisted Holiday Folklore, which features various obscure figures and legends.
"For our residents, it's really pushing them to find interesting things and to read about these holiday folklore characters from all sorts of different traditions all around the world," said Rhiannon Yandell, resident artist at 317. "We're going to see a lot of different things and probably a lot of folklore characters and traditions that people aren't even aware of."
The procession also has cultural ties to Rockford due to the large number of Swedish immigrants who came to the city in the mid- to late-1800s, according to the Swedish Historical Society of Rockford.
"Rockford has got a very large Swedish population," said Laura Gomel, director and owner of 317 Art Collective. "We're bringing something new to Rockford that's kind of already part of Rockford in this way."
The group resident show will highlight the artists' interpretation and findings of folklore, and Gomel plans on placing educational cards beside the art to give background on the legends.
This is the collective's first show that includes holiday celebrations, but it was important to Yandell and Gomel that it was a non-traditional celebration and inclusive to all people groups.
"I just think it's really a great non-traditional holiday community event," Yandell said. "People from all backgrounds, all belief systems — hate Christmas, love Christmas, whatever — are going to have a good time."
Admission to the procession and the show is free, but those interested in purchasing art can do so at the reception or at the collective's Artisan Market, which runs from Nov. 25-Dec. 18.
The procession is a short walk starting at 5:30 p.m. at J&K's Lounge, 507 E. State St. in downtown. It proceeds from State to First Street, heads north on First to Market Street and ends at the collective.
Those marching are encouraged to dress in their interpretation of Krampus or other holiday folklore figures and bring noise-maker such as a bell.
"We just want people to use their imaginations, put something a little twisted together," Gomel said. "Just come and make some noise and march down the sidewalk."
Participants are also asked to let Gomel or Yandell know if they're attending ahead of time through their email 317artcollective@gmail.com or their social media.
While this is the first Krampusnacht procession, Gomel is open to the idea of making the event annual.
"Who knows, if it goes over well and people like it maybe we'll do it every year," Gomel said. "It'll be nuts; you know how we are."
All ages are welcome to attend the event and the collective encourages everybody to get creative with their costumes and visit the group show after.
"This is great for someone who doesn't love traditional holidays," Gomel said. "Come and join and be part of the art."
Know before you go
Where: Procession begins at 5:30 p.m. at J&K's Lounge, 507 E. State St. and the reception goes from 6-10 p.m. at 317 Art Collective, 317 Market St.
When: 5:30-10 p.m., Friday, Dec. 2.
Admission: Free
More information: Additional information can be found at 317artcollective.com or their Facebook.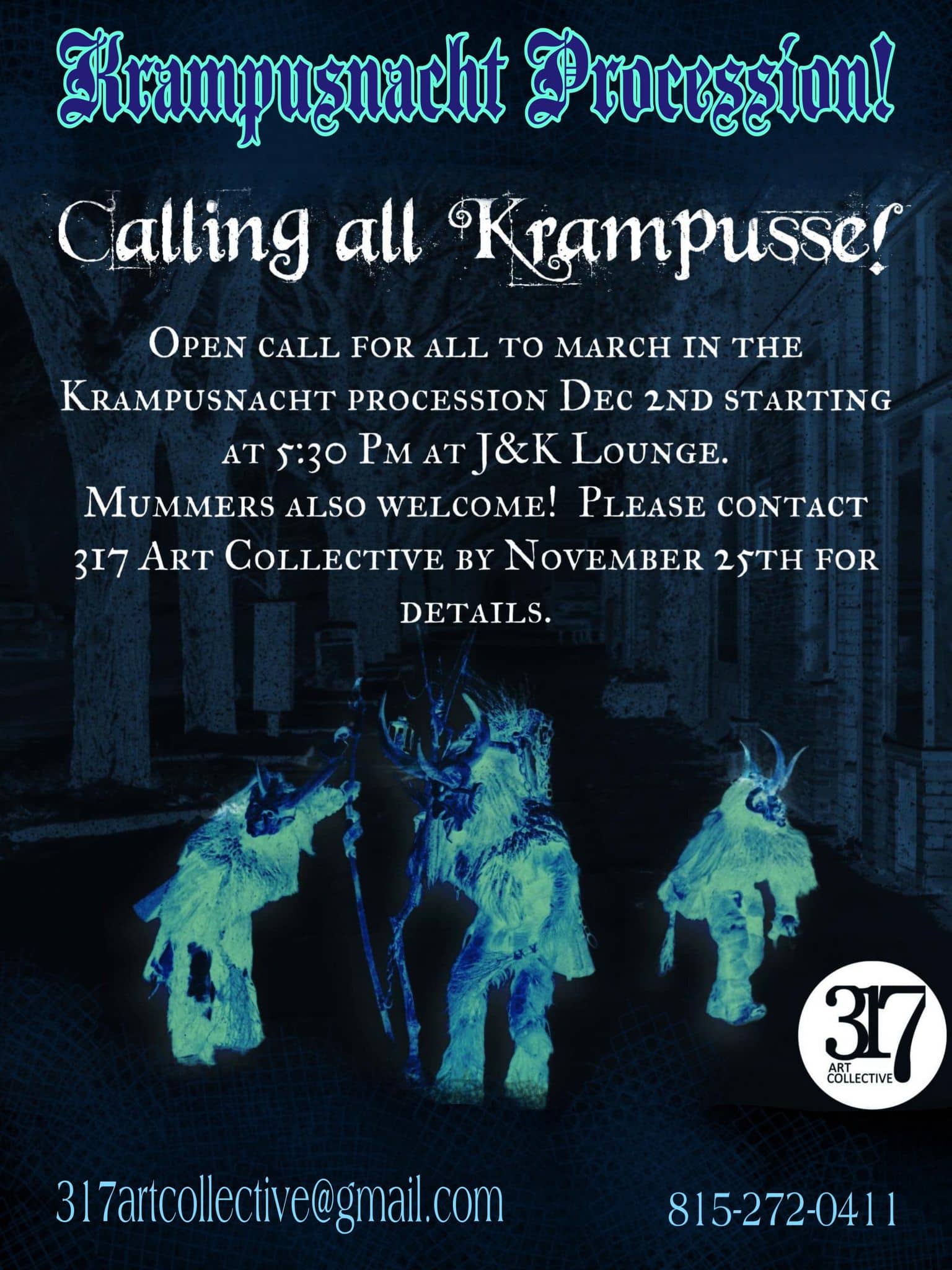 ---
This article is by Mary Sisk. Email her at msisk@rockrivercurrent.com or follow her on Instagram at @maryrrcurrent