ROCKFORD — Kaiden Hodgin starts his day at McIntosh Elementary School with a decision to make.
Before he can enter Emma Clark's third grade classroom, he must choose how he and his teacher greet each other. Stuck to the door of the classroom are cartoon illustrations of choices such as fist bump, wave, thumbs up, dance move, foot bump and hug. Hodgin and other students simply tap their choice and Clark abides.
"I put high-five, fist bump and wave," the 8-year-old said after a morning greeting last week.
His reason for the choices was simple: "It's just fun."
While the greeting game may be nothing more than fun for young students, it has a deeper meaning for the teachers and administrators who put the practice into place at the start of this school year. The initiative is part of a trauma-sensitive education designed to give students a better sense of belonging and community, so that they feel safe with and loved by the teachers who watch over them.
"We really believe here that we need to have relationships before we can teach content and before we can get into the heavy stuff of the school day," said Clark, a third-year teacher who is in her first year at McIntosh. "So it's really important to start your day with a smile, and whatever happened the day before or the week before doesn't matter."
Creative greetings between teachers and students have been a viral sensation on social media. One teacher in Thailand, for example, garnered more than 13.1 million views on Tik Tok for a similar practice.
At McIntosh, the dances kids choose can be inspired by Tik Tok, too.
"They're not choreographed but they're interesting every day," Clark said.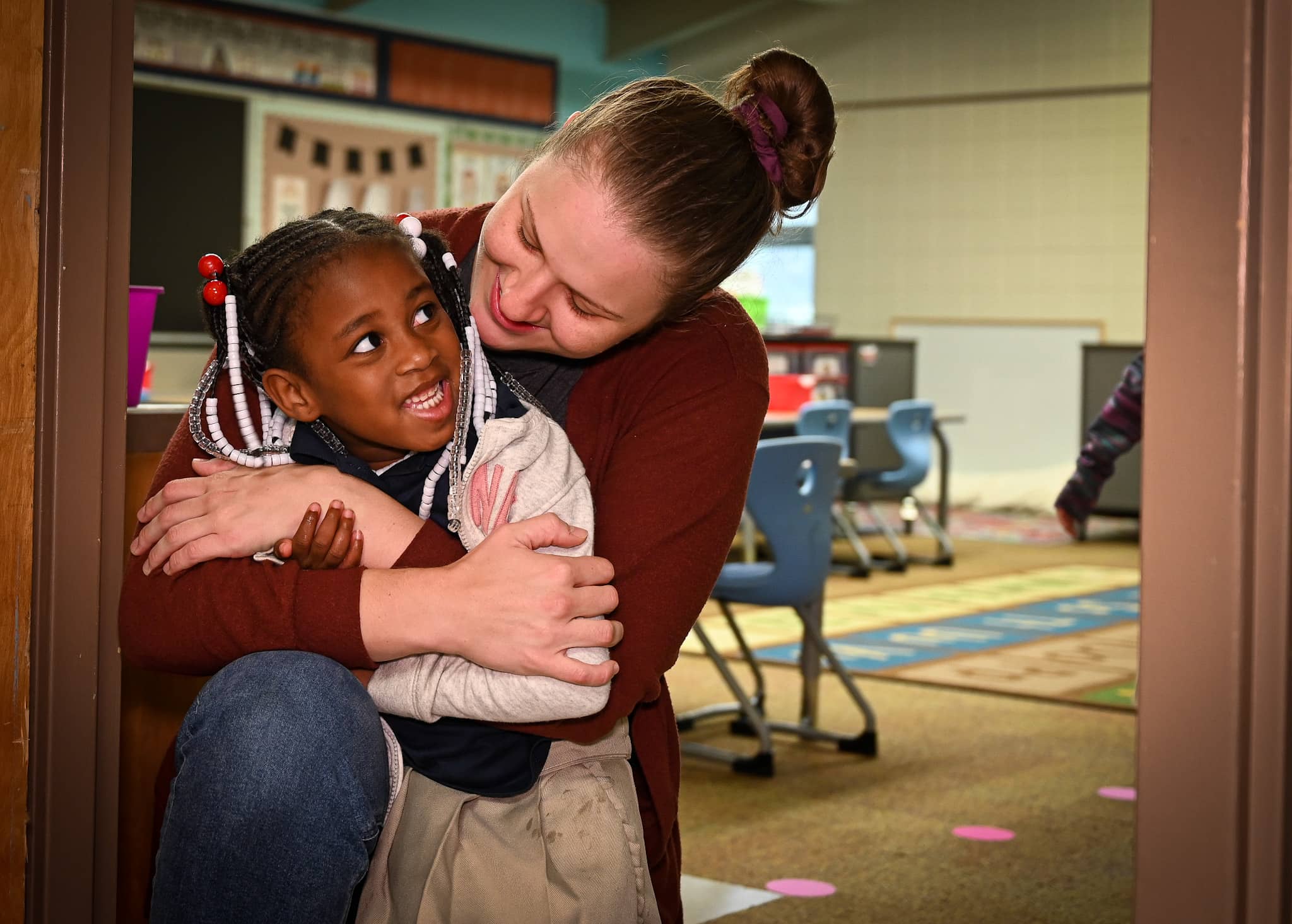 The greetings were particularly important this year as students return to a sense of normalcy after learning under pandemic restrictions, said Principal Erin Salberg, a seventh-year administrator who is in her second year as principal at McIntosh.
"That greeting really helps students feel connected to their teacher and their classmates," she said.
McIntosh has 14 new staff members at the school this year, and Salberg said teachers need ways to build trust with their students. It may initially feel like a risk for students to put their trust in adults and be vulnerable around them, but these micro-connections help.
"There's about six familiar faces here in the building from what was here last year," Salberg said. "So just initiating that connection between the two, kids are already diving into academics and having that safe environment to take those risks."
Salberg said McIntosh borrowed some of its trauma-informed practices from Van Ness Elementary School, a school in Washington, D.C., that has been awarded for its socio-emotional approach to education. The greetings, in particular, help break down the barriers students may have, and it helps them embrace lessons from their teachers.
"Kids can't learn until they know they are loved and safe inside the classroom," Clark said. "Knowing that they have an adult who's ready to greet them with a smiling face and positive attitude sets them up for the whole day."
---
This article is by Kevin Haas. Email him at khaas@rockrivercurrent.com or follow him on Twitter at @KevinMHaas  or Instagram at @thekevinhaas