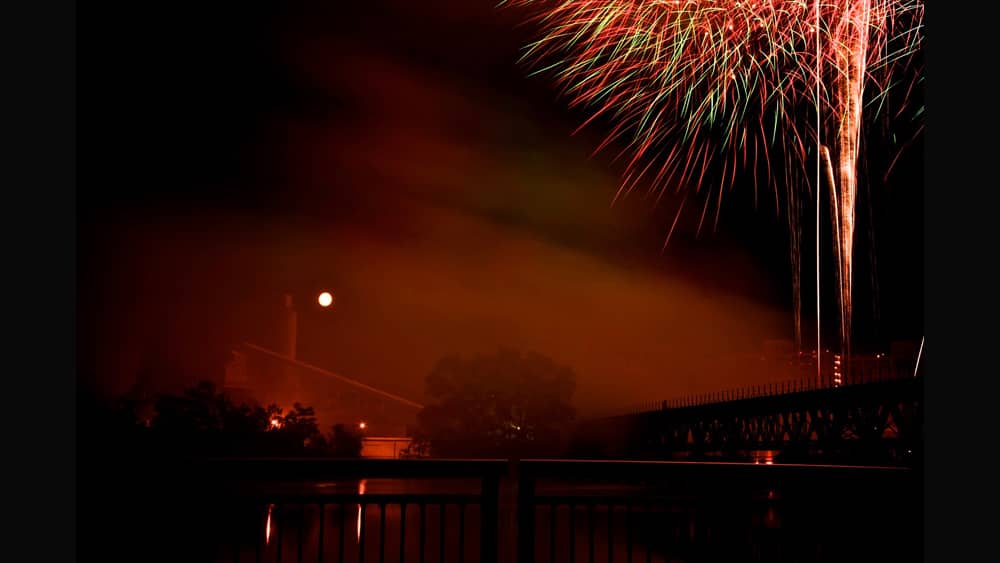 ROCKFORD — When dusk falls over the city tonight, hundreds of people will line the streets, bridges and parks in downtown to watch a 30-minute fireworks spectacle that's been completely revamped from years past.
There are dozens of prime vantage points — from the Chestnut and State Street bridges to downtown parking lots and parks. We asked Ted O'Donnell, who along with his cousin, Tom Luepkes, took over fireworks duties from Rockford's Mr. Fourth of July Joe Marino to tell us the best place to watch.
His answer may come as no surprise: Davis Park.
"We truly believe it's the prime viewing spot for the fireworks," he said on This Week in the Stateline. "You get the shells blasting roughly as high as 650 feet, you get the reflection right off the river right there that you can witness first-hand. It's almost like you're in a 3D movie ride at Universal because it's just unbelievable how much sky they take up."
Davis Park opens at 4 p.m. for people to start plotting out their vantage point, and music from Dirty Pop starts playing at 6 p.m. as spectators wait for the sun to set. A $5 donation to the Rockford Fourth of July Committee, which puts on the show without the use of any taxpayer dollars, is requested to enter. It cost $4 for veterans. It's free to watch elsewhere.
O'Donnell said this year's show, put on with head pyrotechnician Mike Zuzock, was completely revamped.
"Our pyrotechnic company is the same company that just did the Super Bowl this year, is on tour with Lady Gaga and Bon Jovi, does all the NHL, Major League Baseball, NFL," O'Donnell said. " This is the pyro company we brought to Rockford, to our city, and I think people need to see the scope of that."
The fireworks display begins at 9:30 p.m. and lasts for a half-hour. It is synchronized to music on B103.
"You're going to get every song that is played during the show has it's own unique look," O'Donnell said. "You're never going to see the same shells throughout that 30 minutes. That's what makes this so impressive."
No matter where you watch from, O'Donnell said he hopes the show brings people together.
"We want our community to feel like a community after that pyro show," he said. "We want them to walk away with the goosebumps, we want them to walk away with 'I love my family, I love my community, I love my country.'"
---
Schedule of events
7 a.m.: Lifescape 4th of July Classic run/walk on North Madison Street near the trolley stop in downtown Rockford.
8:30 a.m.: Patriotic Prayer Breakfast at Beattie Park, off North Main Street and Park Avenue
3:30 p.m.: Gramps with Amps performs at the Joe Marino statue at State and Water streets 
4 p.m.: Davis Park box office opens, cash or credit accepted; $5 donation for admission; children 5 and younger enter free; $4 admission for veterans
Davis Park will have live entertainment and a free children's area featuring Wonder Woman, Captain America, face-painters, glitter tattoo artists and kids yard games. Olivo Taco, Pizza Fresca, DNA Concession and Rapped with Smoke BBQ will  be in the park. Hayes Distribution (Miller Light, PBR, Coors Light, Truly Twisted Tea and more) along with Pepsi products are also available in the park.
4:30 p.m.: Dominick Bennett will be the parade emcee at the grandstand on Wyman and State streets
4:40 p.m.: Motorcycle parade begins
4:50 p.m.: Screw City Jeeps parade begins
5:00 p.m.: Patriotic Parade begins
5:30 p.m.: Children's entertainment inside Davis Park begins
6 p.m.: Entertainment inside Davis Park begins with music from Dirty Pop
6 p.m.: Free music entertainment at Ingersoll Centennial Park, 315 S. First St., begins from Old Soul Radio
6 p.m.: Free music entertainment at the parade grandstand begins from Bootleg Soul
9:15 p.m.: Davis Park box office/front entrance closes
9:30pm: Rockford 4th of July Civic Committee, MEIJER, MidWest Family Broadcasting, WTVO17/FOX39 present Skyconcert 2021. Tune to 103.1 for the synchronized soundtrack to the 30-minute firework spectacle in the sky.
10 p.m.: Event ends
---