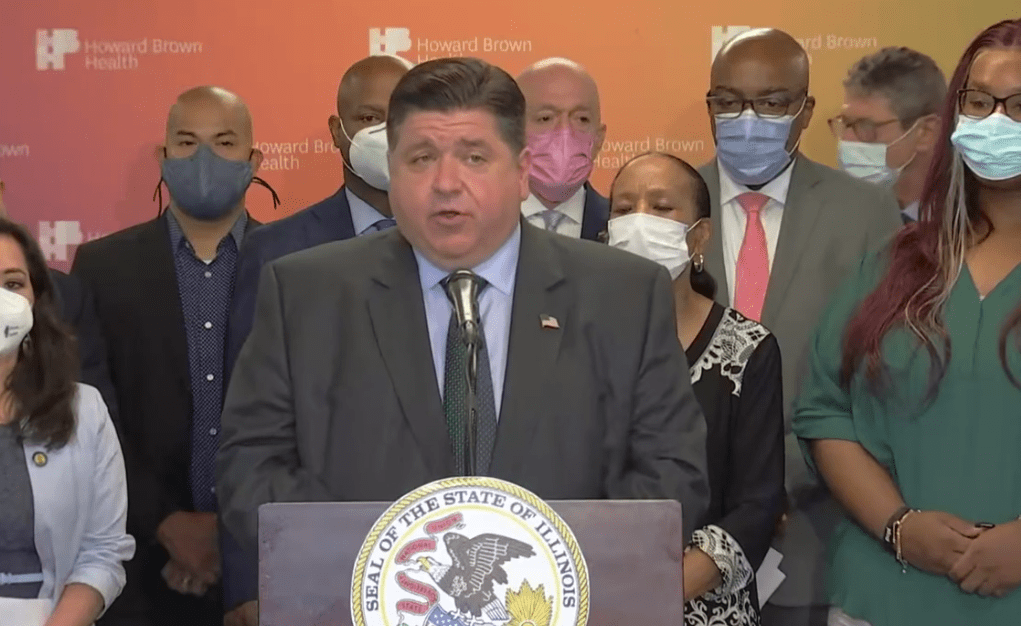 Gov. JB Pritzker said Friday that he would call lawmakers into a special session to "more firmly protect women's reproductive rights in Illinois" after the U.S. Supreme Court overturned Roe v. Wade.
Pritzker delivered that call during a news conference in Chicago hours after the country's high court struck down the landmark 1973 abortion rights decision.
The news conference at Howard Brown Health Clark Center was initially called to celebrate the signing of a bill that expands access to treatments meant to prevent the contraction of HIV. Instead, multiple Democratic lawmakers, doctors, abortion rights advocates and Illinois Attorney General Kwame Brown spoke about ensuring access to safe abortion.
Abortion remains legal in Illinois, one of of 16 states and Washington, D.C., that have established protections for abortion, according to the Wall Street Journal.
"In Illinois we will not go back," Pritzker said. "Here we trust you to make your own decisions about your own reproductive health."
Pritzker did not offer a date for when the special session would begin. He said there are a variety of measures being considered for the special session, such as expanding the availability of health care professionals for abortion and reproductive care.
He said the Supreme Court's action sets the stage for the further erosion of reproductive rights, such as access to fertility treatment and contraceptives. "They've indicated that in the decision," he said.
"They are coming to take away women's power to become mothers at the time of their choosing," Pritzker said. "If they can take away your ability to control your own body, there's not much that stops them from making marriage equality illegal, and taking away employment protections for your beliefs or your orientation."
The Catholic Diocese of Rockford released a statement Friday celebrating the court's decision, saying Roe v. Wade led to the loss of 63 million lives through abortion.
"Each of those babies were recognized by science, reason and faith as members of the human family who were made in the image and likeness of God and who had already begun their journey with us as our brothers and sisters," the statement reads. "Roe v. Wade has caused a collective loss of recognition and love for them as human beings and for their right to life enshrined in our Constitution and our national purpose."
The diocese said Rockford's faithful must now take their voices to the states, where decisions on the legality of abortion will be made. There are 13 states set to ban abortion within the next month, according to the Washington Post.
"That legislative process will continue and, as people committed to human rights and the protections for both those not yet born and for expectant mothers, we need to engage our representatives by persuasion and by our votes," it said. "Our voices can save lives."
Dr. Cassing Hammond said during Pritzker's news conference that abortion is safer than a single shot of penicillin. Pritzker said that wasn't the case before Roe v. Wade, speaking of thousands of illegal abortions performed at the old Cook County hospital.
"They treated women who burned their insides with bleach and peroxide. Women whose uteruses were perforated with paintbrushes, cocktail stirrers, knitting needles, and wire coat hangers," he said. "Women who were nearly dead due to unimaginable blood loss and advanced sepsis. These women saw no other choice. They risked their lives out of desperation for just a semblance of control. And far too many died."
Outside of the news conference, Rockford Democrats spoke out against the decision. Former state representative Litesa Wallace, who is part of a slate of candidates running for the 17th Congressional District, called a 3 p.m. news conference with abortion rights advocates to pledge to restore abortion freedom. Mayor Tom McNamara also spoke out against he decision on Twitter.
"Absolutely reprehensible what #scotus did," McNamara said via Twitter. "A scary world that we are ripping rights away from women."
Absolutely reprehensible what #scotus did. A scary world that we are ripping rights away from women. This beauty lives in a different world than her amazing mother grew up in. Reproductive rights are human rights. Let's take the fight to the ballot boxes. Enough. pic.twitter.com/aeKEX1DH8w

— Tom McNamara (@tmcrkfd) June 24, 2022
Republican lawmakers from Rockford including state Rep. Joe Sosnowski applauded the court's decision, which "moves this issue back to the states and takes steps to support life and families."
"Illinois Democrats have already passed some of the most progressive laws in the nation concerning access to abortion. In recent months, Illinois Democrats have pushed a number of extreme, out-of-touch policies," Sosnowski said in a statement. "Despite the fact that the vast majority of Illinoisans opposed it, they pushed through a repeal of the Parental Notification of Abortion Act – denying parents the right to know about serious medical procedures their minor children could be undergoing. I have consistently voted against these extreme policies including the law Illinois Democrats passed in 2017 that requires taxpayer funding of abortion."
---
This article is by Kevin Haas. Email him at khaas@rockrivercurrent.com or follow him on Twitter at @KevinMHaas.