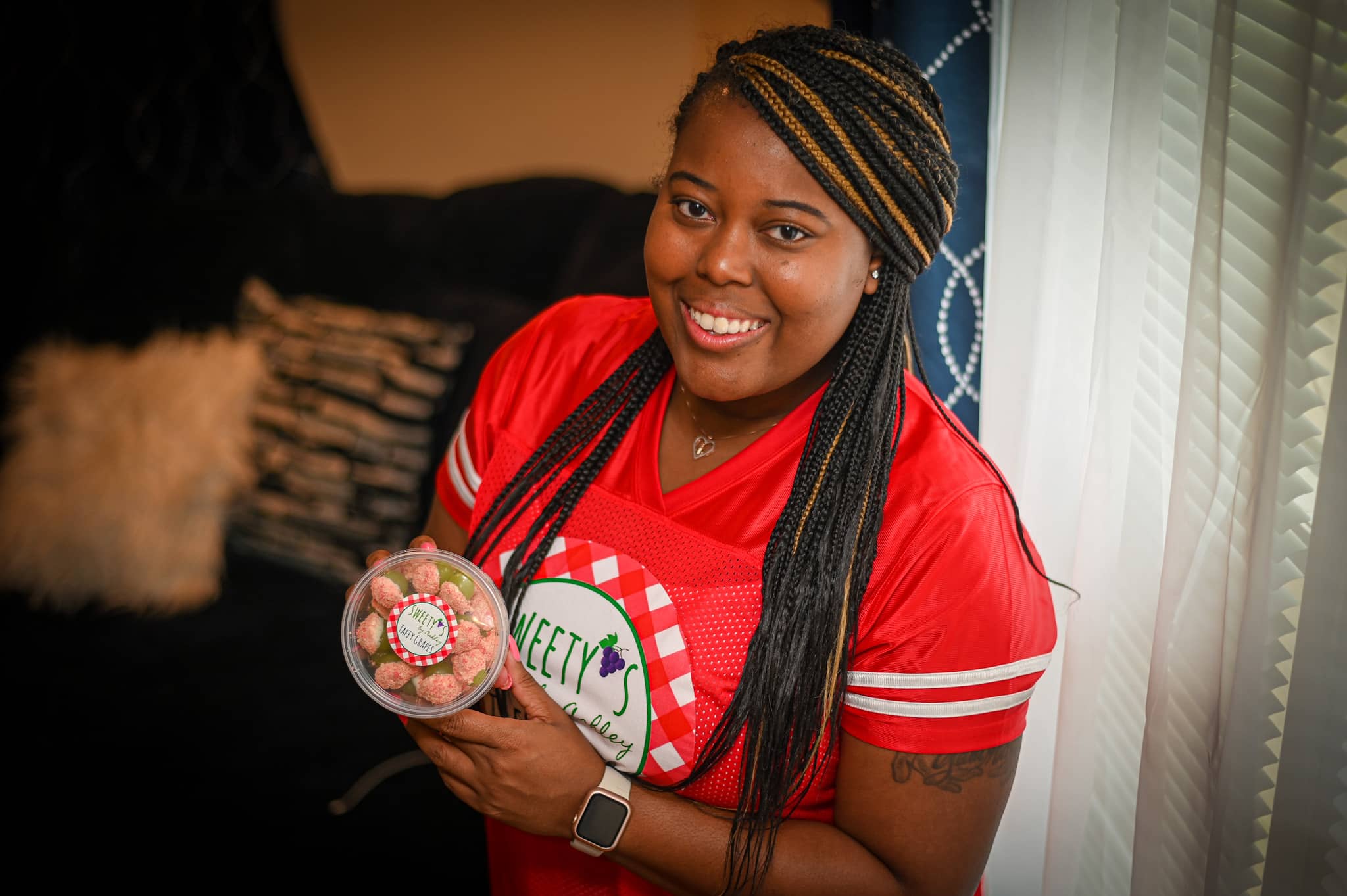 ROCKFORD — When customers pick up an order of Ashley Thomas' sweet, candy-coated taffy grapes, at least one container isn't expected to survive the ride home.
"I have people buy two containers so they have one for the car ride home and one for later," said Thomas, the 36-year-old entrepreneur behind Sweety's By Ashley in Rockford. "It's one of those snacks that once you start eating it, it's completely gone."
Latrachia Russey, a customer who discovered Sweety's through word of mouth, can attest to that. She said her husband and their two kids don't let any package of taffy grapes last long.
"You know how you are eating something and you look down and all the sudden you're like, 'wait, I only put my hand in there a couple of times.' That's how these grapes are," Russey said. "Just the one package normally lasts within that hour."
Sweety's By Ashley is a home-based business that started with a craving and some additional time Thomas had at home at the onset of the coronavirus pandemic.
Now you can find her at pop-up shops, public markets or you can order from her through Facebook. She has a set of consistent customers who make weekly or biweekly orders, and last weekend she was recognized with the Notable Entrepreneur Award at Rockford's Juneteenth festivities.
In February 2020, she had discovered a similar treat while at a conference in Chicago, and when the world shut down a month later she started searching for a way to make them herself.
"I was trying to Google and figure out how to make it," she said.
She made her first batches for Mother's Day 2020, and also brought the treats to her church, The Word Worship Center on West State Street. The reviews came in fast: These are good enough to sell, friends and family told her.
So Thomas did just that, launching the business later that year.
"I didn't expect this," said Thomas, whose full-time job is as a recruitment coordinator for Rockford Public Schools. "I love my full-time job, but as long as people keep ordering them I'm going to keep making them."
(story continues below photo)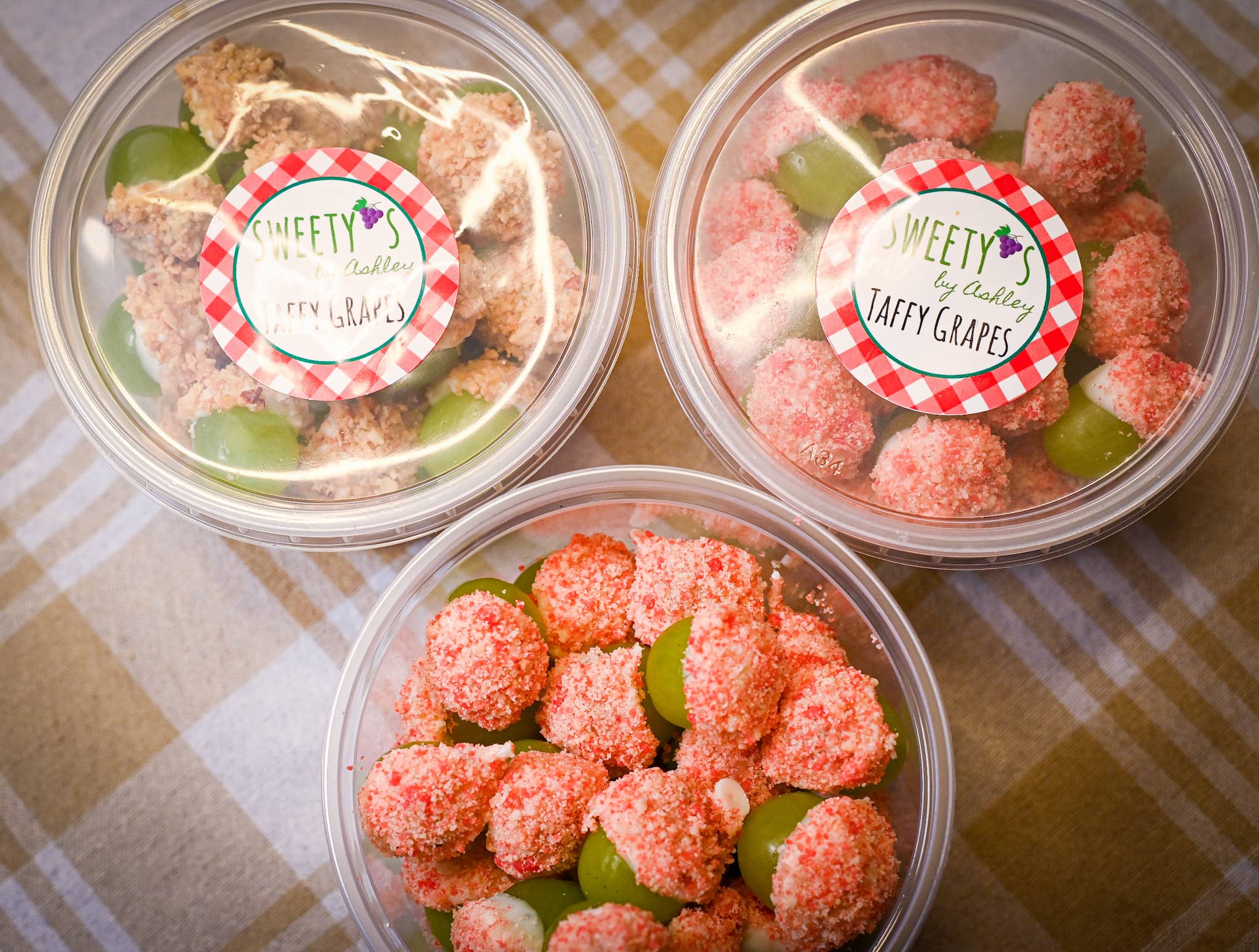 Tamir Bell of Rockford said he discovered Sweety's at a pop-up market tent.
"Her grapes are unique in many different ways, from the look of it to the taste. They taste wonderful and look very beautiful," he said. "They're absolutely delicious and one-of-a-kind."
Bell, an 18-year-old entrepreneur who is the head of visual content for Evolution Digital Marketing Agency, said Thomas' efforts as a businesswoman are inspiring.
"You can start something and be good at it and then share it with the world, and that's what she's doing," he said.
Bell, who is also a candidate for precinct committeeman on June 28, said he hopes to see people support minority- and women-owned businesses like Sweety's.
"Without your support, those businesses can't grow and be sustainable for our community," he said.
Thomas, a mother of two boys ages 9 and 6, has seen her business grow so far. While normally a one-person assembly line in her home kitchen, she will recruit help from her mom and aunt, other family members and hire youth from her church when she has large orders to process.
"It's definitely a team effort," she said.
She typically sells out when she goes to events, with her strawberry crunch being the most popular item. That one is made with strawberry jello and a homemade shortbread cookie crumbled onto white chocolate on top of a seedless green grape.
She also offers peanut, Butterfinger, Oreo, and lemon crunch.
She said she's often asked if she aspires to open a storefront or otherwise grow beyond operating from her home. For now, she said, there's not enough demand to require that – unless she were to get orders from a grocery store, restaurant or other commercial customer.
Until then, "as people keep ordering them I'll keep making them," she said.
How to order | Sweety's By Ashley
How: Sweety's By Ashley takes orders via Facebook or email. She typically makes batches on weekends.
Facebook: facebook.com/Sweetysbyashley
Email: sweetystaffygrapes@gmail.com