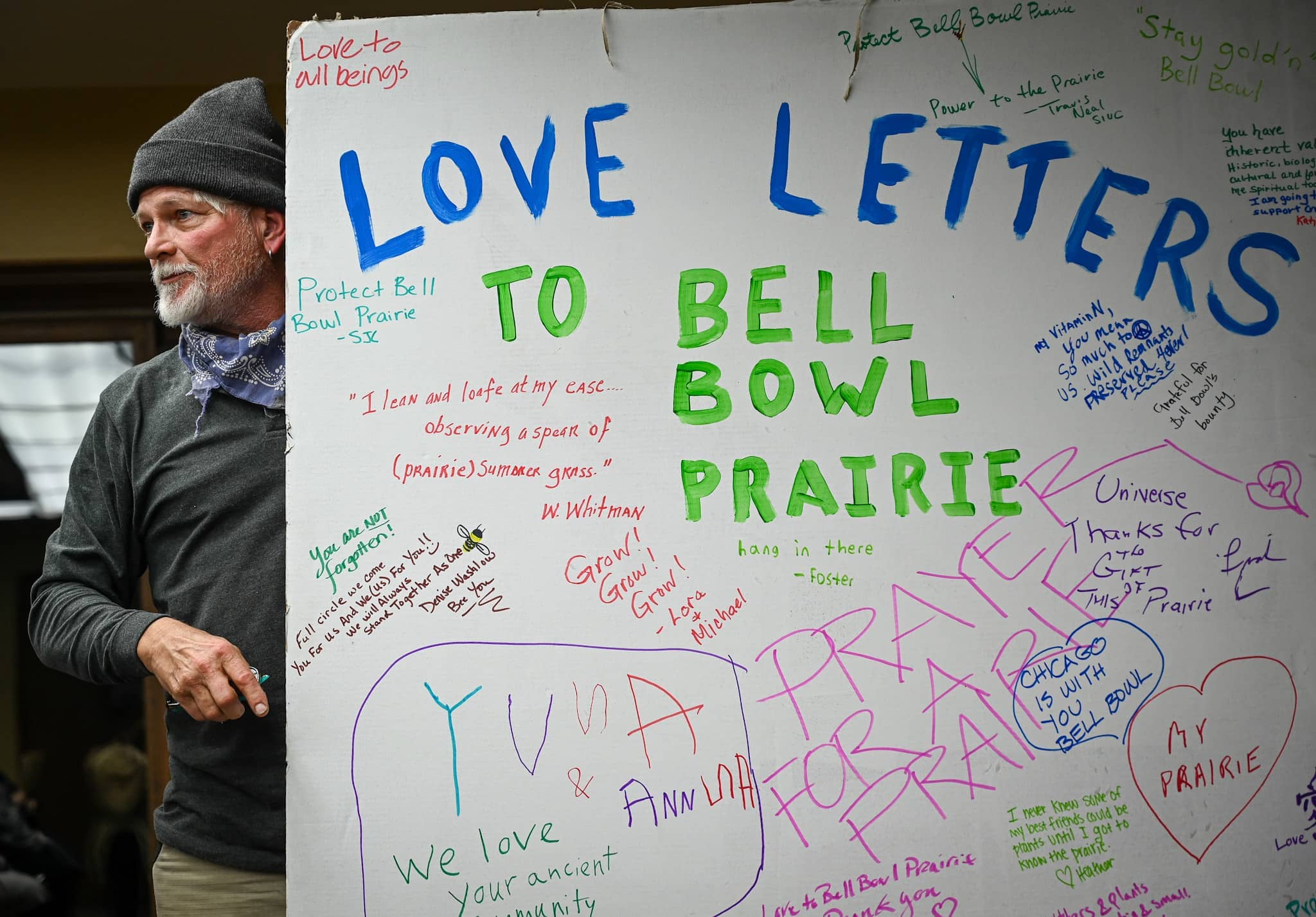 ROCKFORD — They fought for six weeks to earn four months.
Now, a group that rapidly mobilized in mid-September to save an ancient prairie from bulldozers is focused on turning temporary reprieve from airport construction into permanent preservation.
Members of Save Bell Bowl Prairie gathered to discuss their next steps Tuesday, five days after the Chicago Rockford International Airport agreed to hold off on an expansion that would have destroyed the prairie. Now, no construction will happen within the prairie until at least March 1.
"We have four months now instead of one month, but that doesn't mean that we're going to stop," Amy Doll, director of the Friends of Illinois Nature Preserves, said during a public meeting Tuesday. "We said that our goal was to save the prairie, but let's save it for good this time."
The group plans to continue to keep public pressure on the Greater Rockford Airport Authority to redesign its expansion in a way that preserves the native prairie where an endangered rusty patched bumble bee has been found.
The Natural Land Institute also will push forward with a lawsuit in hopes to gain access to the prairie to ensure its preservation and to permanently protect the land. A portion of the lawsuit seeking an injunction to stop construction was withdrawn last week after the airport agreed to stay construction, but it could be refiled if needed.
"Don't go away," Doll said. "This prairie was temporarily saved, at least, because people spoke, people were connected, people were engaged and people cared. So that means we have to keep caring."
More than a dozen people gathered in-person Tuesday at the Forest Preserves of Winnebago County and nearly 50 more joined remotely via Zoom to begin to develop long-range strategies to save the prairie.
"The energy of the moment has kind of dissipated, but now what we need to do is we need to kind of rack up a little bit for a more sustained approach," said Kerry Leigh, executive director of the Natural Land Institute, "because it was so fast and furious these last few weeks."
She said they're working on forming a design consulting team that can offer alternatives to the airport's construction plan. The goal is a design that would allow for both expansion and prairie.
The group will work to raise funds both to pay its attorneys fees and to offset some of the costs of a new construction plan. They hope by contributing money it would convince airport officials to adopt a design that preserves the prairie.
"If it's more expensive to build a parking garage instead of a 6-acre parking lot, well let's talk about how we can find the money for that," Leigh said. "They've spent money on permitting, they've spent money on contractors, they've spent money on repairing that road. How can we assist in getting grants or finding more money for them to undo some of that and redo something somewhere else?"
The $50 million dollar cargo expansion is expected to create hundreds of construction jobs and generate up to 600 permanent jobs at the airport. It would also bolster the airport's reputation as the fastest-growing cargo airport in the world.
The airport had already started work, and bulldozed roughly 10 acres of the prairie land, until the endangered bee was found on site in late August and construction was temporarily halted. There are still roughly 14 acres left, including about 5 acres of high-quality prairie, said Zach Grycan, director of stewardship for the Natural Land Institute.
Supporters of the Save Bell Bowl Prairie movement have filled airport board meetings, inundated public officials with letters and emails, and marched in the streets to draw attention to their cause.
"All that time our cry was they're not listening, they're not listening, they're not listening," said David Stocker, an artist and teacher who helped create public art to support the movement, including a love letter to the prairie signed by other supporters. "Ultimately, somebody must have listened because they put a stop on that work order."
This article is by Kevin Haas. Email him at khaas@rockrivercurrent.com or follow him on Twitter at @KevinMHaas.