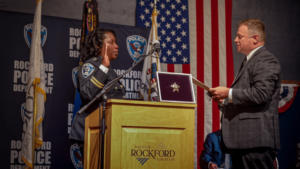 History was made in Rockford as the city swore in it's first ever female Chief of Police! Carla Redd, who has been with the RPD since 1998, was sworn in officially as Chief on Tuesday.
"I am thankful for the opportunity to be that person and to set an example for those who come behind me," said Chief Redd. "I think about when I interviewed for the police department coming on as a new officer, I have to get a shout to Chief Pugh who was sitting there during the interview. And the commissioners asked me 'how far do you want to go?' And I said I don't want to step on any toes but I want his job".
Redd says she plans to focus on creating strategies to reduce violent crime in the city.